Drive Shack hosted their Caddyshack 28th Anniversary where guests from all over Orlando came out to golf, indulge in food and simply have a good time.
We also got a chance to ride in their ball collector out on the course while answering "Ballzoni Trivia". I was asked questions based on the movie Caddyshack. While taking some laps on the course, our cart was at the mercy of golfers hitting their balls at us! If I answered a question wrong, Matt Franca , (my driver who is also the Drive Shack bar manager), would stop the cart and honk the horn for players to hit their balls at us. Luckily, our cart barely got hit.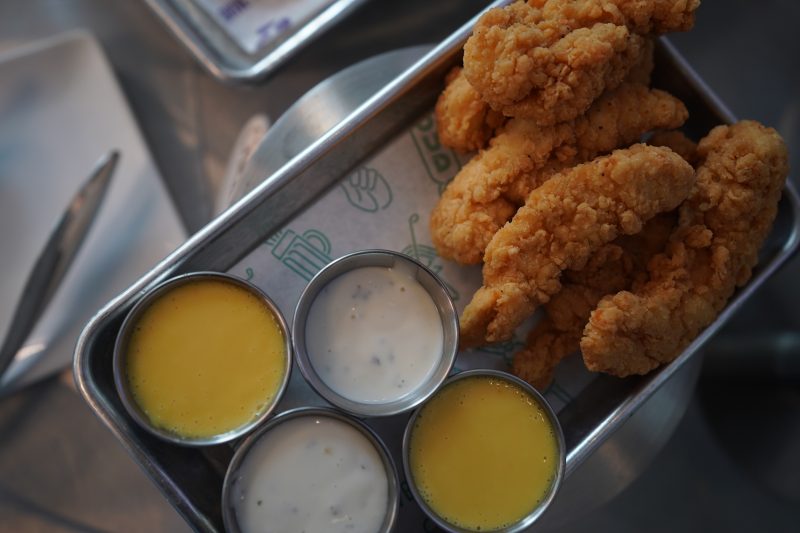 The menu was kept simple and there was something for everyone. It consisted of soft pretzels, beef sliders, parmesan truffle tots, cheese quesadillas and chicken tenders.
I asked Franca why Caddyshack was chosen as their theme an what the inspiration behind the menu was.
He answered, "It's such a fun crazy environment to work at, just like in the movie, everyone is really high energy and upbeat and it's something we've just embraced since we opened…part of our core values at Drive Shack is to have fun. It's bright and open; that's what Caddyshack was about. If you go to the making of Caddyshack, there's some really cool documentaries on there and it was just partying and a ton of fun. That's just what we do here at Drive Shack. That's why we really love Caddyshack and ran with it. A lot of the foods are just really easy to eat."
They had their beer specials as well, so they wanted something that went well with that. They wanted the menu to cater to everyone.
His closing remarks on Drive Shack were, "Drive Shacks been opened for about 3 months now. We're opening a bunch more locations soon. Theres a ton to be learned here. The gaming we created here really is revolutionizing this market in this industry. It's getting a ton of people involved in golf that may not have gone out to a golf course and played 18 holes. It's bringing a lot of family and just friends together. It's a social aspect that's extremely exciting. The games are incredible. There's just so many different specials that we're offering. We're doing a draft party on August 16th."
Overall, Drive Shack is the place to be to have a great time and kick back with a group. It is a family friendly environment and you won't be disappointed with their good eats.
Drive Shack Orlando
7285 Corner Dr, Orlando, FL 32827
https://www.driveshack.com/