Pastry in the Park is back this year with a remarkable lineup of Pastry Chefs that represent some of Central Florida's best independent restaurants on January 20th at 6pm! For tickets, call The Osprey Tavern at (407) 960-7700
I
This year 5 local Orlando pastry chefs are getting together to showcase Valrhona chocolate, each Chef highlighting a different flavor. Savory bites will be provided by The Osprey Tavern.
We spoke to Pastry Chef Kristy Carlucci about what is new this year and also chatted with her about desserts and food trends.
What's new this year for the 2nd Annual Pastry in the Park?
This year, we are showcasing an ingredient that is a keystone of every pastry chef's menu: Chocolate. I couldn't think of a better way to highlight it than with Valrhona chocolate, which has an ever-growing array of chocolate varieties. The tasting is structured in a progressive style, starting with white chocolate, and ending up with a very dark chocolate. Chef Elek is even joining in the fun with a savory intermezzo using Valrhona's Cocoa Powder!
What is the state of pastry like in Orlando right now?
I think that the state of pastry in Orlando is leaps and bounds ahead of what it was even 5 years ago. We're seeing trends that for a while, you only found locally at the parks or hotels. Patisseries like The Glass Knife and bakeries like Buttermilk Bakery are really setting the bar high in terms of creativity and execution. From my perspective as being a Baking & Pastry Instructor at Valencia College, my classes are full every semester, and the new downtown campus will enable instructors to expose students to even more techniques and trends.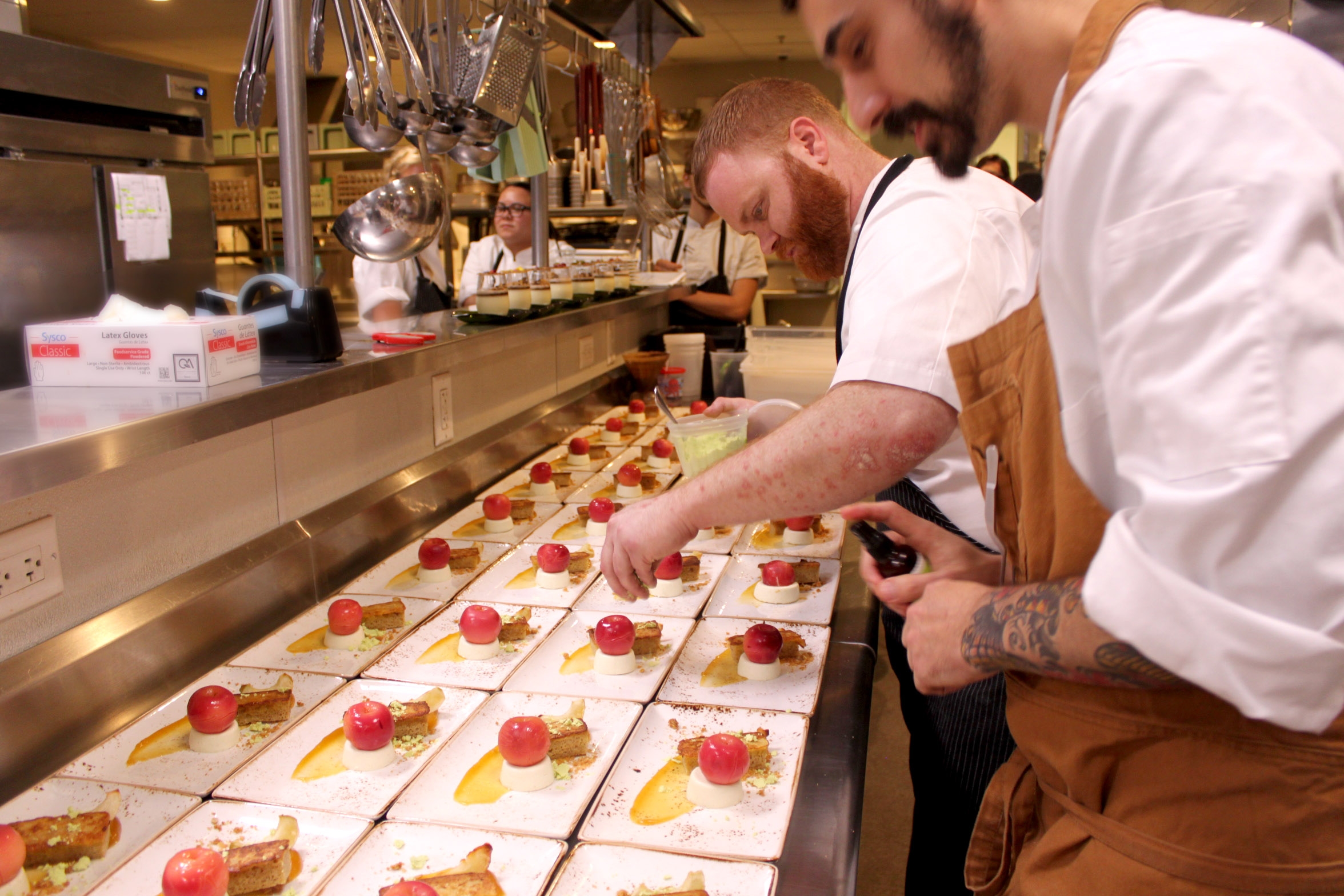 What are some food trends lately here in Orlando for dessert that you have noticed?
Speaking of trends, at the restaurant, our guests love comfort. I try to have at least one "out there" dessert for those adventurous types (which to those people: I love you!!), but we have to have that quintessential chocolate dessert, or that classic apple crisp; something that people can relate to. However, I do like to take those familiar desserts and add an unexpected flavor or component to them. Like with said apple crisp, we paired it with a Sunchoke Ice Cream.
I think the goal of a restaurant Pastry Chef should be to entice guests with a well-rounded menu, don't be pretentious, but also don't underestimate your guests. If you give them a stellar piece of Carrot Cake one night, next time they might try your Lemon Posset with Elderflower Espuma 😉 . As I tell both my students and my pastry cooks, dessert is (or should be) the taste our guests leave with. It's our responsibility to represent the restaurant with one last sweet impression.
Kristy Carlucci
Pastry Chef
The Osprey Tavern
4899 New Broad St
Orlando, FL 32714
Chef Kristy Carlucci brings 10+yrs of pastry experience as the Executive Pastry Chef of The Osprey Tavern, Seito Sushi, and Reyes Mezcaleria, all in Orlando, FL. Chef Carlucci gained a strong set of fundamentals while studying Baking and Pastry Arts at The Culinary Institute of America in Hyde Park, New York. She has developed and strengthened her skills under the tutelage of such kitchen luminaries as Richard Rosendale CMC, Francisco J. Migoya CMB, and Chef Angela Hartnett. She has worked in various hotels, country clubs, restaurants, and patisseries throughout the United States, baking for celebrities, professional athletes, and political figures. Locally, she has served as Pastry Chef de Cuisine at Cask & Larder in Winter Park and is also an instructor at Valencia College.