It seems that every year the Swan and Dolphin Food & Wine Classic gets bigger and better. In 2018, the event celebrated its 9th year with unlimited tastings at more than 70 stations featuring culinary selections from the hotel's award-winning restaurants and wine from more than 30 wineries amidst a festive backdrop of live entertainment on the hotel's scenic causeway. The event also features numerous themed areas including a beer garden and hands-on seminars with the hotel's chefs and certified beverage experts.
There are several themed sections in addition to the main causeway that have been added over the years including a "Carnival Center", "Chinatown", and a "Beer Garden."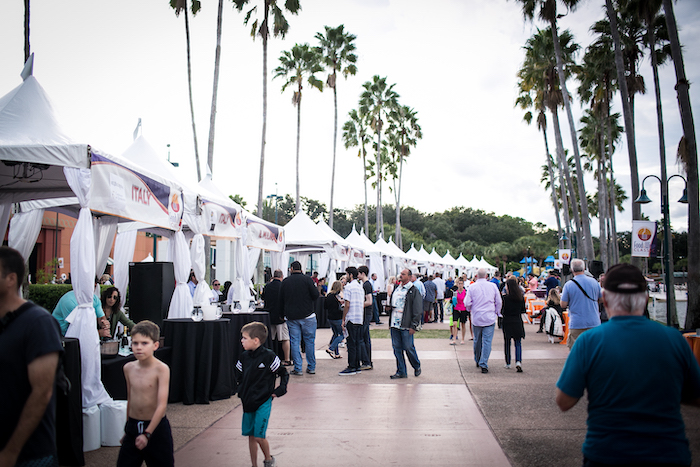 New to the event this year was The Pig and the Poke, a luau-themed area located on the resort's private beach, featuring the sights, sounds and tastes of the Pacific with live music and tasty bites including traditional earth baked Kalua pork with steamed white rice, Tuna Poke with koho sushi rice, avocado relish and crispy fried wontons and shaved ice served with a selection of tropical flavors. Polynesian melodies were be performed by the family group Manureva at The Pig & The Poke.
All of Swan and Dolphin's on-site restaurants were represented, including: Shula's Steak House, IL Mulino, Todd English's bluezoo, Kimonos, Garden Grove, The Fountain, Cabana Bar and Beach Club, Fresh Mediterranean Market. Picabu, and Phins.
Also during the event, guests were able to meet award-winning chefs including Todd English, a celebrity chef, restaurateur, and cookbook author, and also Laurent Branlard, the only two-time winner of the World Pastry Team Championship as well as several more of the world's top chefs.
New dishes on the 2018 menu included:
• Dynamite Rock Shrimp with late season Zellwood corn, wasabi foam, matsutake
mushrooms, Japanese eggplant and crispy lotus root from Todd English's bluezoo
• Vietnamese Lemongrass Meatballs "On a Stick" with Vermicelli noodles, pickled
vegetables and sriracha espuma from Cabana Bar and Beach Club
• Braised beef agnolotti with caponata-agrodolce, baby leeks and glace de viande mornay
sauce from Il Mulino
• Shake & Bake Style Southern Fried Chicken with black eyed pea puree, white cheddar
fondue and bacon-infused roasted garlic gravy from Picabu
Returning favorites include:
• Oven roasted beef rib eye from Shula's Steak House
• Dragon sushi roll from Kimonos
• Handcrafted bacon with hay smoked potato gnocchi, black truffle, thai chili brussels
sprouts and grape "pudding" from Cib's Smoke House
My favorite dish of the evening? Hand Crafted Bacon with Hay Smoked Potato Gnocchi, Black Truffle, Thai Chili Brussels Sprouts, Grape "Pudding" presented by Cib's Smoke House
Chinatown
More scenes from the event
SAVE THE DATE – 2019
2019 will mark the 10th annual Walt Disney World Swan and Dolphin Food & Wine Classic. The Walt Disney World Swan and Dolphin Food & Wine Classic returns Friday, November 8 and Saturday, November 9.
Advanced purchase, event-only tickets include unlimited tastings on the causeway as well as access to the beer garden for just $145 per person. Overnight packages are also available.
Educational seminar experiences may be added to packages for an additional fee.
Tickets can be purchase here: https://swandolphinfoodandwineclassic.com/
Luciano Sperduto, director of food & beverage at the Walt Disney World Swan and Dolphin Resort: "We're continually amazed at the response to this event and are honored to be celebrating 10 years. This year is going to be the biggest and best event yet."