Carnevale, the traditional winter festival famous in Venice and known as Mardi Gras outside of Italy, is a spectacle of glamorous costumes, culinary delicacies, and riotous celebration.
February 22 through March 5, guests who visit Maria & Enzo's Ristorante at Disney Springs will get a front-row seat to nightly live entertainment including singers, stilt walkers, jugglers, mimes, face painters and folkdancers, while indulging in the restaurant's signature Italian cuisine.
As the Italians say, "a Carnevale ogni scherzo vale!"(Anything goes at Carnevale!) Reservations are recommended to ensure your experience Italy's largest celebration of the year.
Visit mariaandenzos.com or call (407) 560-8466 for reservations and more information.
FEAST OF CARNEVALE 45.
Available in addition to normal a la carte menus. Click here to view all menus.
Amuse bouche
Ciabatta bread, grissini and ponte focaccia
Pasta di Carnevale
Chef selection of pasta served Family Style
Choice of one Antipasti
Choice of one Secondi
Bugie dessert
ANTIPASTI
Misticanza
mixed baby greens, fennel, rainbow carrots, apple, white balsamic vinaigrette 11.
Caesar
mixed romaine lettuces, olive croutons, parmesan cheese, caesar dressing 14.
Zuppa di Pesce
mussels, clams, gulf shrimp, roasted tomato, shellfish broth 11.
Minestrone Alla Siciliana
seasonal vegetables, cannellini beans, parmesan cheese 9.
Arancini ai funghi
crisp rice croquette, Forest Mushrooms, Taleggio cheese 12.
Calamari Fritti
cherry peppers, spicy tomato sauce, roasted garlic aioli 17.
Polpette e Ricotta
classic meatballs, whipped ricotta, parmesan cheese 12.
Burrata Caprese
cherry tomatoes, creamy mozzarella, basil, extra virgin olive oil 17.
SECONDI
Spaghetti alla Chitarra
marinara sauce, braised meatballs, parmesan cheese, basil 25.
Fettuccine Cacio e Pepe
thin pasta ribbons, pecorino romano cheese, cream sauce, toasted black pepper 22.
Pasticcio di Maccheroni
baked pasta, Italian sausage ragu, tomato, mozzarella, eggplant, peas, caciocavallo cheese 23.
Pollo alla Parmigiana
chicken parmigiana, breaded chicken breast, mozzarella, parmesan cheese 29.
Passera Origanata
parmesan crusted flounder, lemon, brown butter, caper sauce 34.
Melanzane alla Parmigiana
eggplant, tomato sauce, basil, mozzarella, parmesan cheese 23.
Ossobuco
braised veal shank, taragna polenta, roasted parsnips, toasted garlic gremolata 39.
DESSERT
Bugie e Chiacchiere
fried pastry, powdered sugar, chocolate 9.
Gelato e Sorbetto
crema, chocolate, pistachio, lemon, orange, strawberry 9.
Tiramisu ai Lamponi
lady fingers, mascarpone cream, raspberry, limoncello 9.
Torta di Pistacchio
roasted strawberry jam, whipped mascarpone cream 9.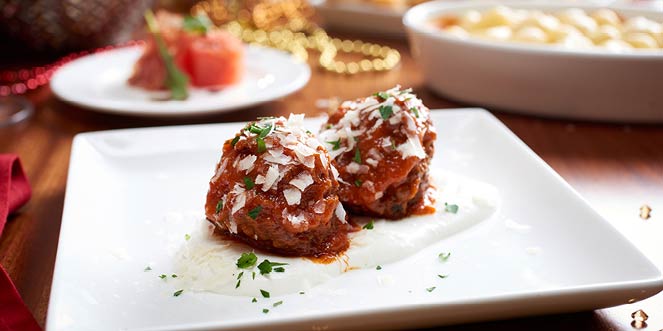 Visit mariaandenzos.com or call (407) 560-8466 for reservations and more information.