Celebrate Orlando's culinary scene with Visit Orlando's Magical Dining®, now in its 14th year.  Running from Aug. 23 through Sept. 30, 2019, it's your chance to enjoy three-course, prix-fixe dinners at more than 120 of Orlando's best restaurants for just $35 per person.  Additionally, through Visit Orlando, $1 from each meal will benefit two local charities: the National Alliance on Mental Illness (NAMI) Greater Orlando and Lighthouse Central Florida.
We were invited to Big Fin Seafood Kitchen for a sneak peek and taste of their Magical Dining menu this year prepared by Executive Chef and Partner James Slattery and his team.
Big Fin Seafood Kitchen, an award winning seafood restaurant in Orlando, Florida is an upscale casual restaurant with a relaxing energy.
They are located in the Dellagio town center on Sand Lake Road's "Restaurant Row", just minutes away from Walt Disney World® Resort and Universal Orlando® Resort.
Appetizer
½ Dozen Freshly Shucked Raw Oysters (GF)
Can be served raw or steamed
Smoked Fish Dip (GF)
Pickled jalapeño garnish, scallions
Crispy Fried Popcorn Shrimp
Served with cocktail sauce
Caesar Salad
Romaine, parmesan cheese, garlic croutons
Cup of the Soup of the Day
Main Course
Big Fin Trio
Fried popcorn shrimp, bay scallops and catfish served with French fries and coleslaw
Shrimp Orleans (GF)
Blackened shrimp, spinach, mushrooms, sun-dried tomatoes, crawfish Parmesan grits, Cajun cream sauce
Signature Crab Crusted Corvina
Corvina baked with a blue crab crust and served with garlic mashed potatoes, grilled asparagus and lemon butter sauce
Surf and Turf (GF)
5oz filet and 3oz lobster tail served with garlic mashed potatoes and asparagus
Dessert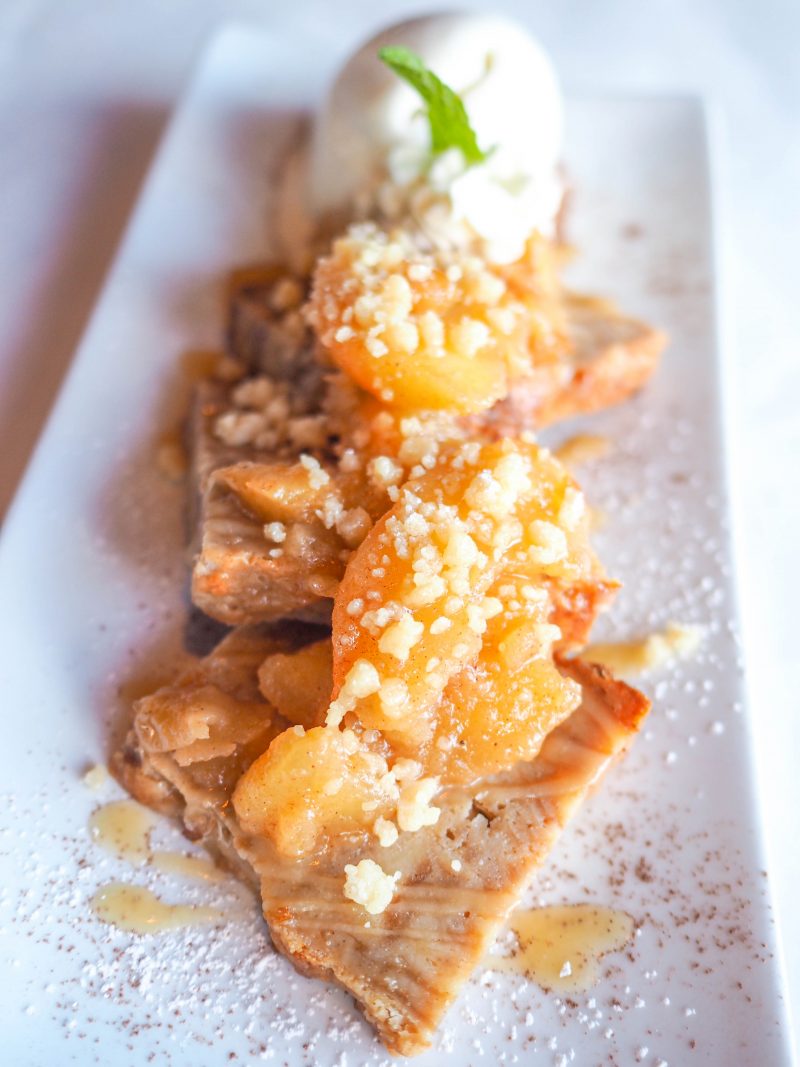 "Apple Pie" Bread Pudding (V)
Braised cinnamon apples, salted caramel sauce, crumb topping, vanilla ice cream
Ooey Gooey (V)
A gooey-layered pie cake topped with whipped cream.  I *highly* recommend this dessert.  You will not regret it.
Brownies & Cream (V)
Triple chocolate gooey brownie, vanilla ice cream & drizzles of salted caramel & chocolate sauce
Thank you Executive Chef and Partner Chef James Slattery & the staff at Big Fin Seafood Kitchen for a wonderful meal!  Be sure to check them out for Magical Dining this year!  Reservations are strongly recommended.
Big Fin Seafood Kitchen
8046 Via Dellagio Way Orlando, FL 32819
(407) 615-8888
visitorlando.com/en/magical-dining/restaurants/big-fin-seafood-kitchen/30460