We've been big fans of Highball & Harvest, the rustic, sleek restaurant featuring Southern inspired farm-to-table fare and handcrafted cocktails since the first day they opened five years ago inside The Ritz-Carlton Orlando, Grande Lakes.
The restaurant also sources locally – how local? Well they sourced a lot of their fresh produce and herbs from the resort's on-site 7,000-square-foot garden at Whisper Creek Farm. Honey is harvested from their resident bees, and the citrus is pulled from their orchard.
In celebration of its five-year anniversary, Highball & Harvest is hosting a special event on September 4th with live entertainment and a reception featuring favorite appetizers, entrees, desserts and signature cocktails.
Over the years, we've interviewed opening Chef Mark Jeffers…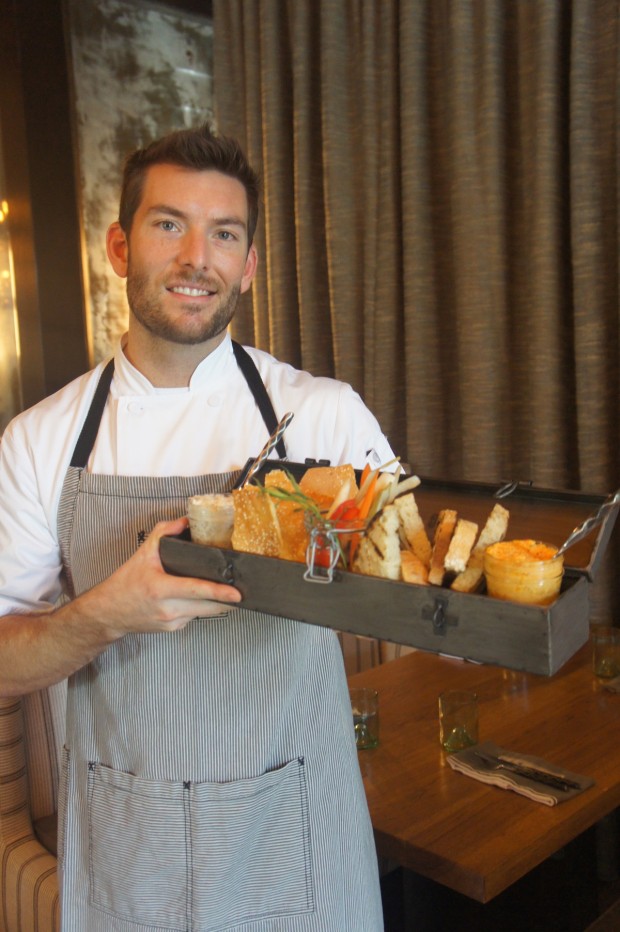 and Chef Nathan Hardin….
and most recently, Bar Chef Brenda Mulero…
This time, we speak with Scott Pizzo, current Chef de Cuisine of Highball & Harvest and Anniela Flores, Food & Beverage Events and Marketing Lead of The Ritz-Carlton Orlando, Grande Lakes.
Chef Pizzo's career began in 2007 after graduating from Le Cordon Blue Culinary School. He joined Norman's here at The Ritz-Carlton Orlando, Grande Lakes where he grew into the position of Chef Tournant. He then went on to work as chef de cuisine of Dragonfly, Executive Sous Chef of The Ravenous Pig under Chef James Petrakis, and finally Chef de Cuisine of Cask & Larder before finally returning back to The Ritz-Carlton Orlando, Grande Lakes where he is now as Chef de Cuisine at Highball and Harvest.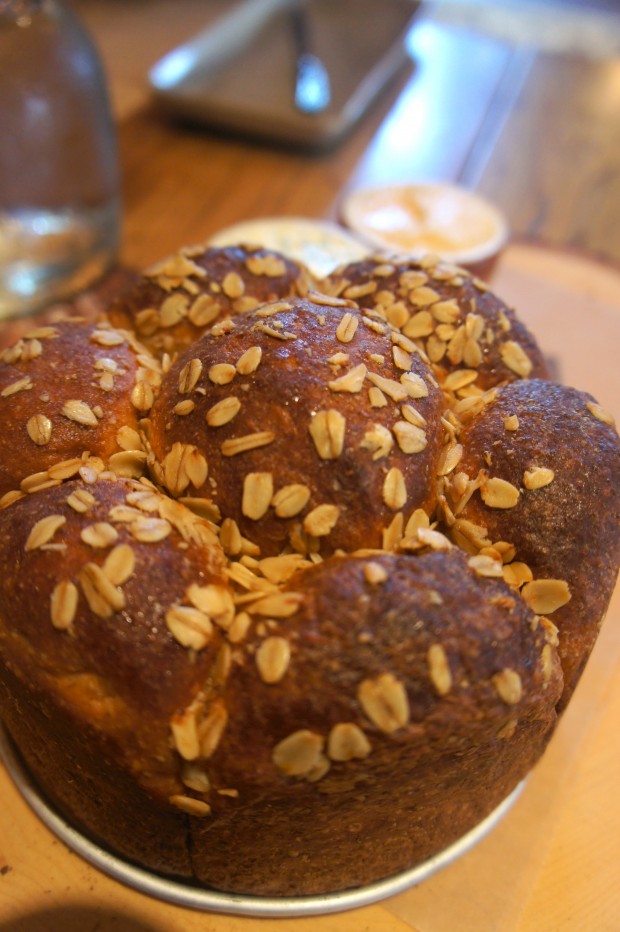 Tasty Chomps: What do you have planned so far for the menu for the 5 year anniversary?
Chef Pizzo: We are bringing back some of the old favorites and staple dishes from the previous H&H chefs and myself – like pig & potatoes, pimento cheeseburger, shrimp & grits and highlighting some current favorites as well.
Anniela Flores: We are also incorporating elements of the restaurant that have made us who we are such as the décor, the special events, the cask wines, etc. We are taking all of these things and making "timeline stations."
Tell us about some of the highlights from the H & H menu these past 5 years – what are some guest favorites?
Chef Pizzo: I think it's been about the southern classics like shrimp and grits and dishes like these that find the connection through the past of southern cuisine to our guests and how H&H has expressed the educational guidance of local cuisine and the importance of using sustainable ingredients.
Anniela: We have had certain comfort food dishes that each of our chefs (past and present) have created different variations of it to add to our menus however there are a few items that I think if we ever took off the menu, some of our loyal guests would come protesting. Dishes like the Pimento Cheeseburger, the H&H Jerky, our Aged n Cured are timeless.
What are some things you have planned for the menu in the coming months ahead? What do you see H & H doing in 5 years?
Chef Pizzo: Well the menu at H&H is always evolving, always looking at new beautiful ingredients that our farmers are bringing in. There is no mapped out course but about the only guide lines we kind of give ourselves is that we stay true to the cuisine but refined but also to have fun and be playful with what we have and give as much flavor impact as possible. We look to the past to move this cuisine forward, instill the preserved aspect as much as possible such as pickling, smoking, fermenting, etc. as well as evolving these to new modification processes like ex. turning fruits and vegetables into lardo, always something new to create for ourselves and our guests.
Anniela: Chef Scott and his team do such a great job at always evolving and always thinking outside of the box. That mindset has translated well into our constant menu changes. As he said we don't necessarily have a mapped out course, sometimes we just take what is right in front of us whether that is at our on-site farm or from our local farmers and then create something new both in our food and our beverages.
In your own words, what makes H & H special?
Chef Pizzo: Its authenticity, creativity, passion and understanding what we are trying to preserve and teach to our guests to give them a memorable experience.
Anniela: I couldn't have said it better myself. All of our teams (bar, servers, cooks, chefs, etc.) push each other to be better and we play off one another.
What is something you can find only at H& H here in Central Florida?
Chef Pizzo: There are ingredients we are growing on and around our own property farm that bring back the past of Florida that most Floridians didn't know existed.
Anniela: The ingredients, the dishes, the cocktails, the stories, and the ambiance. We tell our story thru our food, our cocktails, and our service and because it is OUR story, it can't be found anywhere else around here.
What are some special things guests can expect at the anniversary event?
Chef Pizzo: High quality favorites from both food and beverage, the overall Ritz Carlton experience, old and new friends and a great experience of remembering the past and of what's to come!
Anniela: We have so much happening that evening! Some things old, some things new and a whole lot of fun. Guests can expect surprises with just about every element of the restaurant we will be celebrating (food, cocktails, beer, wine, entertainment, etc.)
Highball & Harvest's 5-Year Anniversary
Wednesday, September 4, 2019 at 6 PM – 8 PM
$100 per person. Each attendee will be entered for a chance to win a $100 gift card and a Chef's Table Experience for Two (valued at $500).
Reservations required; 407-393-4648.
More here: https://bit.ly/2JC85I2
The Ritz-Carlton Orlando, Grande Lakes
4012 Central Florida Parkway, Orlando, Florida 32837
Reservations required; 407-393-4648.