Governor Ron DeSantis issued Executive Order 20-71, directing all restaurants and food establishments within the State of Florida to suspend on-premises food and alcohol consumption for customers.  The establishments may, however, operate their kitchens for the purpose of providing delivery or takeout services.
Big Fin Seafood Kitchen, an award winning seafood restaurant located in the Dellagio Town Center on Sand Lake Road's "Restaurant Row", has created a new limited menu available 5pm-8pm every week night and 5pm-9pm every weekend.  They are also offering bottled beer and wine at 50% off with any curbside food order.
If you prefer to stay in, you can also order Big Fin Seafood Kitchen online on DoorDash and have it delivered to wherever you are.
Family meals are also available for those looking to feed their families at an affordable price.  Menu below.
We had the opportunity to experience their new curbside service and we were highly impressed with convenience of it as well as the taste and quality of our takeout order.  Executive Chef & Partner James Slattery and his team at Big Fin Seafood Kitchen are passionate about serving Central Florida with seafood uniquely prepared from recipes and cooking techniques learned from around the globe.
The Surf & Surf – Big Fin crab cake, shrimp and scallops, lemon beurre Blanc and tartar sauces.  It comes with your choice of two sides so I ordered mine with French fries and garlic mashed potatoes.  The crab cake had a pleasingly crisp exterior with a meaty and soft interior.  The shrimp and scallops were impressively succulent and fresh as if they just came out of the ocean.  The garlic mashed potatoes were rich and creamy.
Shrimp & Scallop Orleans Combo (Blackened) – Gluten-free. Spinach, sun-dried tomatoes, mushrooms, crawfish Parmesan grits, Cajun cream sauce.  This dish is kind of like the one above, but with a Southern twist.
Twin 6oz. Filet Mignon – served with garlic mashed potatoes, asparagus.
When a filet mignon is cooked properly, you won't even need a knife to cut through the meat, it will literally fall apart under the use of a fork and this cut of filet mignon did exactly that; it was extremely tender with an incredible texture.
French Fries – Every bite of these cajun seasoned crispy fries took me back to my childhood when I would visit my grandparents in Louisiana during the summer and enjoy their homemade crawfish boils.
Mac-N-Cheese – it was cheesy, gooey, creamy, and surprisingly buttery; therefore making it the perfect accompaniment to my garlic mashed potatoes.  I was also impressed with the long cavatappi pasta that they used as oppose to short pasta –  this subtle adjustment made the side dish more fun to chew on.
Limited menu below: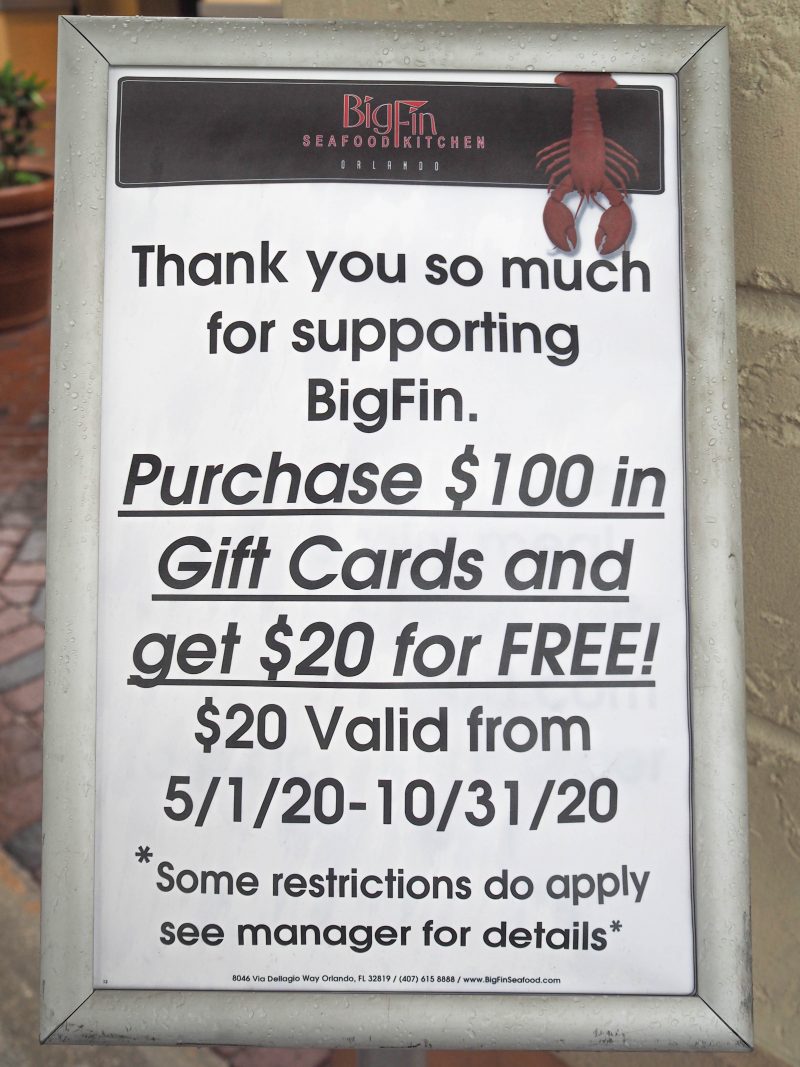 Bonus offer: Purchase $100 in gift cards and get $20 for FREE!*
*$20 valid from 5/1/20 – 10/31/20.
For more information, please visit: bigfinseafood.com
Big Fin Seafood Kitchen
8046 Via Dellagio Way Orlando, FL 32819
(407) 615-8888