The Parks at Disney are temporarily closed, but that doesn't mean you can't enjoy your favorite Disney bites at home.
The official Disney Parks Blog is posting recipes like the ones for the popular Churro Bites and the Mickey Mouse Beignets from New Orleans Square at Disneyland Resort and Disney's Port Orleans Resort – French Quarter at Walt Disney World from Disney's animated classic The Princess and the Frog and the  – inspired by the classic Disney snack that is found at all of our parks across the globe.
These recipes are easy to make with readily available ingredients found in most home pantries … and fun to make as a family.
Please check out all the #DisneyMagicMoments on The Disney Parks Blog
Churro Bites
INGREDIENTS
• 1 cup water
• 8 tablespoons butter
• ¼ teaspoon salt
• ¾ teaspoon ground cinnamon, divided
• 1 ¼ cups all-purpose flour
• 3 eggs
• 1 ½ cups vegetable or canola oil
• ½ cup sugar
DIRECTIONS
1. Combine water, butter, salt, and ¼ teaspoon cinnamon in 1 ½-quart saucepan over medium heat. Bring pot to rolling boil.
2. Reduce heat to low.
3. Add flour and stir vigorously until mix forms a ball. Remove from heat and let rest for 5-7 min.
4. Add eggs, one at a time, and stir until combined. Set aside.
5. Heat oil in medium skillet or 1-quart saucepan over medium-high heat or until temperature reaches 350 degrees.
6. Spoon dough into piping bag fitted with large star tip. Pipe 1-inch strip of dough over saucepan, cut with knife, and drop into hot oil. Repeat until churro bites fill saucepan with room to fry.
7. Fry churro bites until golden brown. Remove with slotted spoon or mesh spider strainer.
8. Drain churro bites on paper towel.
9. Mix sugar and ½ teaspoon cinnamon in medium bowl. Toss in churro bites until coated. Place on serving plate and serve with favorite dipping sauce.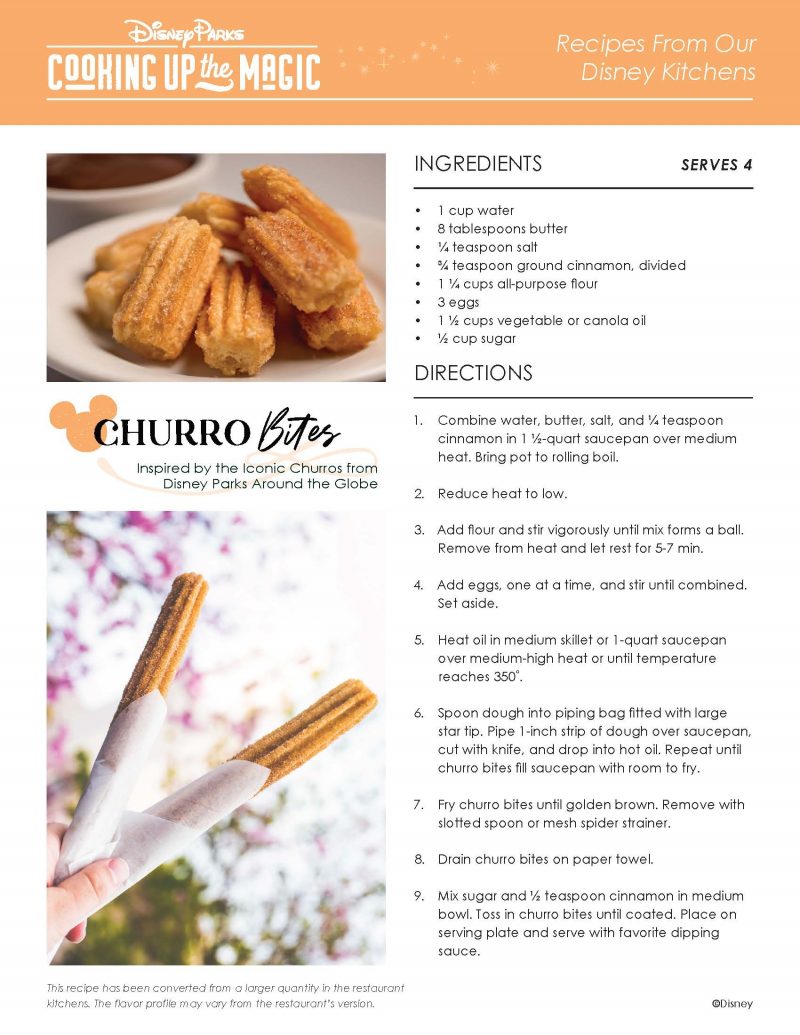 Mickey Mouse Beignets
INGREDIENTS
• 1/2 teaspoon dry yeast
• 1/4 cup warm water (105º)
• 1/4 cup sugar
• 2 tablespoons vegetable shortening
• 1/2 teaspoon salt
• 1/2 cup heavy cream
• 1 egg
• 4 cups all-purpose flour
• 1/2 cup boiling water
• Vegetable oil for frying
• Powdered sugar
DIRECTIONS
1.Sprinkle yeast over warm water in a small bowl, stirring to dissolve. Let stand for 5 minutes.
2.Combine sugar, shortening, salt, heavy cream, egg, lour and boiling water in a large bowl; stir in yeast mixture. With the dough hook attachment of an electric mixer on medium speed, mix the dough just until combined and smooth. Let dough rest for 30 minutes.
3.Roll to 1/4-inch thickness and cut individual beignets with a Mickey Mouse-shaped cutteror cut into 2 1/2 to 3-inch squares. Cover with a towel and let dough rise until doubled in size in a warm, draft-free area, about 1 to 1 1/2 hours.
4.Using caution, heat 3 inches of vegetable oil to 350°F in a deep, heavy pot over medium-high heat. Fry beignets until golden brown, about 2 to 3 minutes, turning as soon as they brown on one side. Remove with tongs and place on paper towels to drain. Dust warm beignets with powdered sugar and serve immediately.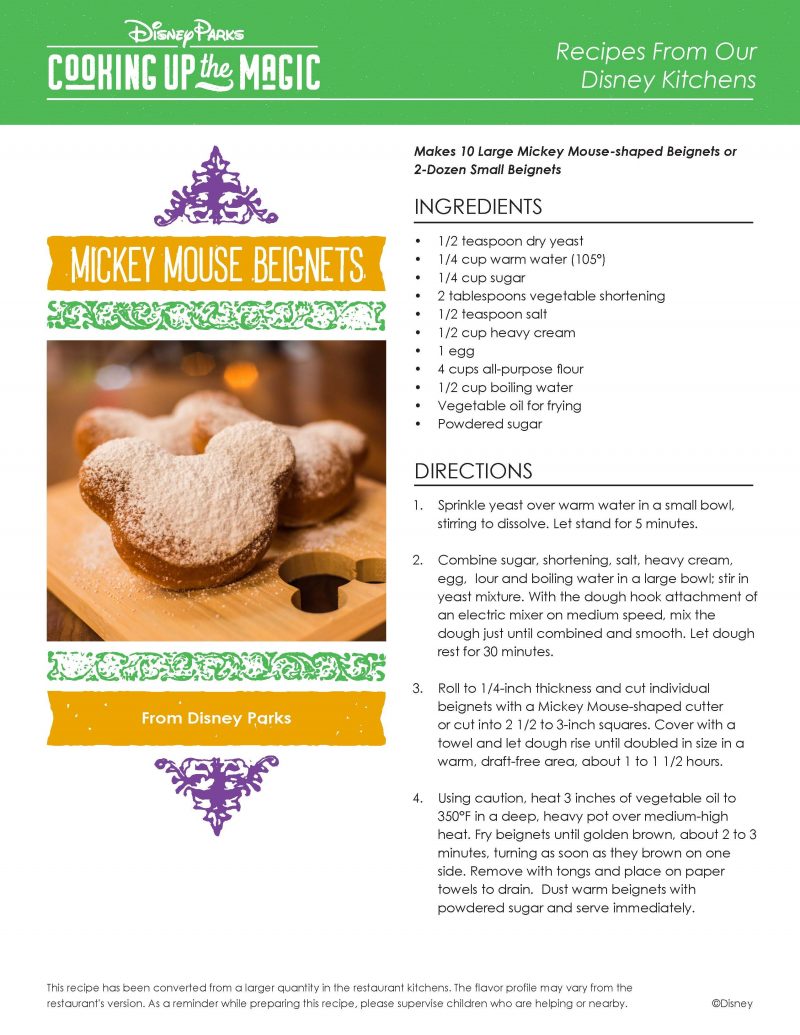 Photos and Recipes Courtesy of Disney.