Here is a list of Father's Day Specials going on locally here in Orlando!
Tabla Indian Cuisine
Taverna Opa
Daily 1 – 10 p.m. 407.351.8660
https://opaorlando.com/fathers-day/
Dad eats free with a family style menu for four or more people. Or, celebrate Dad at home with Papa's Feast for $69 to serve two or three with a Greek salad, Spanakopita, a meat platter with lamb chops, chicken kebob, beef kebob, pork loin and sliced gyro and much more.
Tapa Toro
Reyes Mezcaleria and The Osprey
Reyes Mezcaleria is offering a Cowboy Steak (first come first serve), and The Osprey a Prime Rib Dinner. The Prime Rib Dinner from The Osprey can also be pre-ordered for pickup for those who want to celebrate at home: https://www.theospreyorlando.com/online-ordering
The Capital Grille:
The Capital Grille is offering a three-course family-style Father's Day dinner for takeout, featuring a Whole Roasted Rack of Ribeye served alongside Grilled Asparagus, Mashed Potatoes, a freshly baked Cheesecake and a jar of Housemade Steak Sauce. Dinner starts at $135 for two and $245 for families of four. Pre-order available while quantities last. The restaurant is also offering a selection of hand-carved uncooked steaks to be prepared at home. Guests can pair with a bottle of wine or the restaurant's iconic Stoli Doli martini, in select locations. View the full menu and order online at www.thecapitalgrille.com.
Eddie V's:
Eddie V's is offering a four-course family-style Father's Day dinner for takeout, featuring a choice of Rye Whiskey Glazed Salmon or Oven-Roasted Tenderloin with Morel Mustard Crust served alongside Truffle Macaroni and Cheese, Grilled Asparagus and Potatoes Au Gratin, and a Bananas Foster Butter Cake. Dinner starts at $125 for two and $195 for families of four to six. Also available are uncooked signature cuts of steak hand-carved and ready for guests to prepare as they wish. Wine and champagne are also available to order in select locations. View the full menu and order online at www.eddiev.com.
Elize
Father's Day take out box available for pickup on Saturday, June 20. The box includes a mimosa kit, light bites, fresh fruits, croissants and meats for $45.
Ruth's Chris
Prime Ribeye Surf & Turf starting at $59
Dad's choice of 12 oz., 16 oz. or a bone-in Cowboy Ribeye with a cold-water lobster tail
Choice of salad and side
Available 6/19 – 6/21
Reservations are open – please contact Ruth's Chris for details
Father's Day Gift Card
Surprise him with a gift for a night out and receive $50 bonus card for every $250 spent
Café Tu Tu Tango
Food, art and fun are on deck for the first 50 dinner reservations at Café Tu Tu Tango for June 21. Those who score a reservation will receive a free custom art piece from one of Tango's in-house artists (see attached for proof), and a free growler of draft beer to enjoy at home.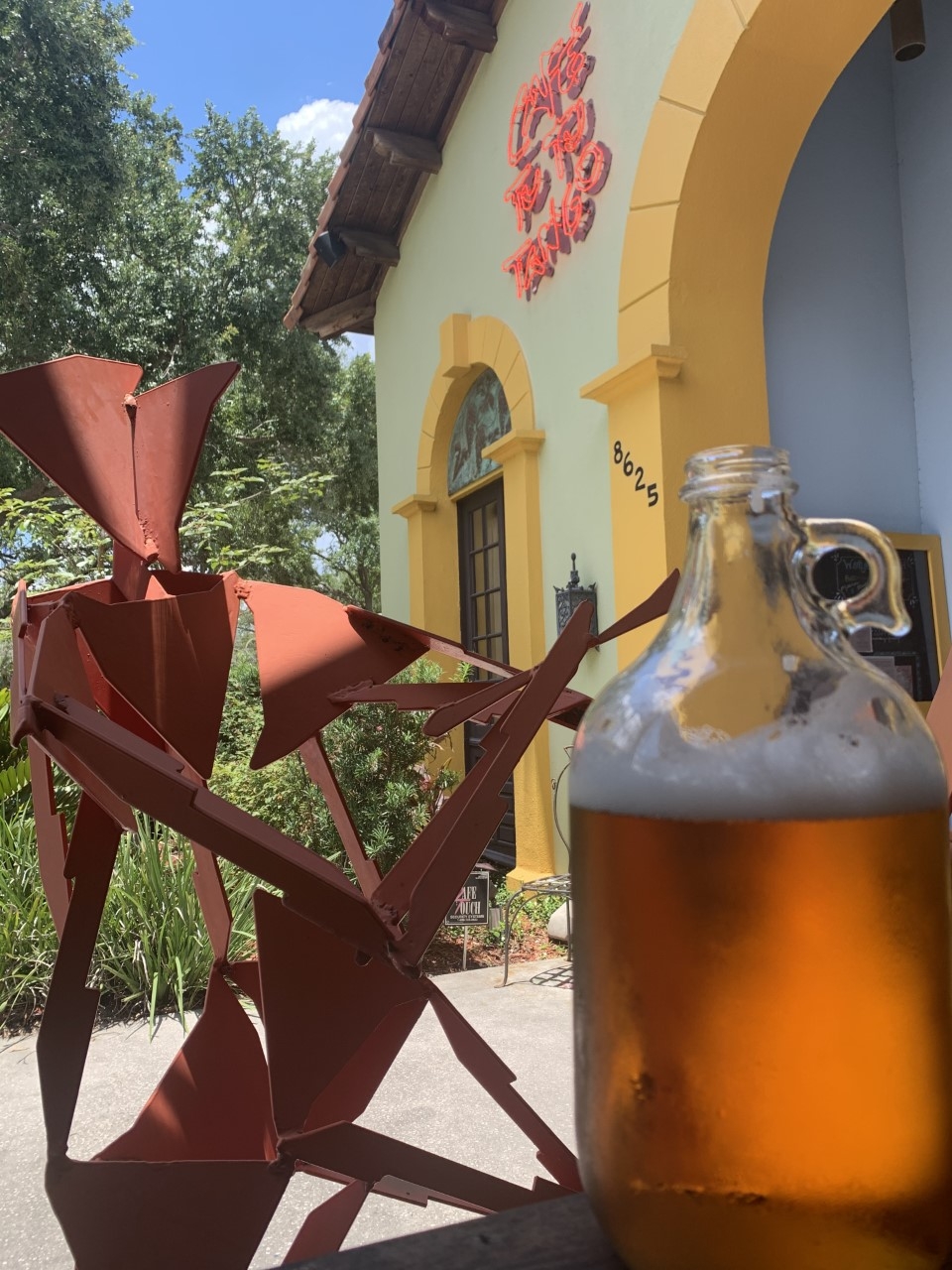 Wolfgang Puck Bar & Grill at Disney Springs
will be open for reservations!
The restaurant will be open from 12PM – 8PM and we ask for reservations in advance via SevenRooms
https://www.sevenrooms.com/reservations/wolfgangorlando
Olive Garden:
Make Dad's day with abundant, craveable Italian classics from Olive Garden, featuring Giant Chicken Parmigiana — measuring in at 11.5" — served with Fettuccine Alfredo and available starting June 20 for a limited time while supplies last. Guests looking to plan ahead can enjoy Olive Garden's Family-Style Take & Bake Bundles, with options of Giant Cheese Stuffed Shells (serves up to 5) or Classic Lasagna (serves up to 8), starting at $40. Bundles include a jumbo house salad with a bottle of signature Italian dressing, one dozen ready-to-bake breadsticks and choice of homemade Alfredo or Marinara dipping sauce. And, enjoy a $10 bonus gift card for every $50 gift card purchased. For more information, and to order early to secure your ideal Carside Pickup or delivery timeslot at www.OliveGarden.com.
Cheddar's Scratch Kitchen:
This Father's Day, Cheddar's Scratch Kitchen is offering to take care of dinner for Dad with scratch-made Family Bundles to go. Starting at $24.99, bundles include entrées like hand-breaded Chicken Tenders, House-Smoked Baby Back Ribs and Grilled Salmon, as well as two family-sized sides and a half-dozen signature Honey Butter Croissants. Alcoholic beverages are also available to go where permissible. Order online at Cheddars.com for same-day or future curbside pickup. As an additional gift idea, Cheddar's is offering an extra $5 for every $25 in eGift cards purchased online.
Seasons 52:
Seasons 52 is offering a three-course Father's Day dinner to go featuring either a Rack of Dry Rubbed Pork Loin or Whole Side of Sriracha-Glazed Cedar-Plank Roasted Salmon, which comes with salad, whole corn on the cob, choice of an additional side and Mini Indulgences. Options start at $130 for family-style or $75 for two. Guests can pair with a bottle of wine in select locations. View the full menu and order online at Seasons52.com.
Bahama Breeze:
Bahama Breeze is offering a Caribbean Father's Day Bundle for takeout featuring entrées like Jamaican Jerk Chicken, Jerk Chicken Pasta, Baby Back Ribs or Seafood Paella, served alongside a choice of Broccoli, Mashed Potatoes, Yellow Rice or Rice & Beans. Guests may also choose two from an assortment of appetizers including Yuca Cheese Sticks, Coconut Shrimp or Jamaican Jerk Wings. Bundles serve four and are available for preorder through June 20. Beer, wine and cocktails are also available to order in select locations. Guests can call their local restaurant or order online at BahamaBreeze.com.
Yard House:
Treat Dad to what he really wants this Father's Day — a crisp, refreshing draft beer from Yard House available to go in 64-ounce beer growlers in select locations. Choose from guest favorites such as House Honey Blonde, House Golden Pilsner, Yard House Cuvée and more. Pair with a Rib Eye to make the celebration complete. Wine, spirits and cocktails also available to go in select locations. To view the menu and place an order, visit YardHouse.com.
The New Standard
DINE-IN:
Father's Day Special: Prime Rib with truffle whipped potatoes, asparagus, demi-glace and horseradish compound butter. $40 per person, $75 for two, $150 for four.
Horse Soldier Bourbon Flights: Includes three Horse Soldier bourbons with tasting mat and tasting notes for each bourbon. The tasting is $35 for three 1.5-ounce pours.
Reservations strongly suggested. Please call 407-316-2278, or reserve via OpenTable.
VIRTUAL BOURBON TASTING:
The New Standard is pleased to partner with Horse Soldier bourbon for a Virtual Bourbon Tasting on Friday, June 19, at 7 p.m. via Instagram Live.
Guests have the choice of either a Charcuterie + Cheese plate OR a full, three-course meal to go with their bourbon tasting.
Tastings come in 187mL, 375 mL and 750mL options of three Horse Soldier Bourbons:
Straight Bourbon
Small-Batch Bourbon
Cask Strength Bourbon
ROY'S GRILL TO GO PACKAGE
Curbside Carryout
Friday, June 19 – Sunday, June 21
For the ultimate Dad's Day at home, celebrate with Roy's "Grill To Go" Package. Enjoy our signature Szechuan Spiced Pork Ribs, Blackened Shrimp Skewers and Huli Huli Chicken ready to grill at home*. Each dinner for four comes with Hawaiian Dinner Rolls, your choice of two sharable sides, and dessert for only $125.
Roy's "Grill To Go" Package is offered for pick up Friday, June 19th – Sunday, June 21st. We request all orders be placed one day in advance. Happy Grilling!
Maggiano's Little Italy
Daily 11:30 a.m. – 9 p.m. 407.241.8660
https://orders.maggianos.com/menu/orlando
Pick up a cold-prepped Father's Day bundle for an easy and delicious family meal. Cold-prepped means our chefs have done all of the hard stuff – just heat and enjoy when you're ready. This bundle is $99 and generously serves four including Mini Meatballs in Marinara Sauce, Chicken Piccata, Mom's Lasagna, New York Style Cheesecake and much more.
The Pub Orlando
Sunday–Thursday Noon – 9 p.m. Friday and Saturday Noon – 11 p.m. Dine-in and patio seating available as well as a curbside menu and cocktails and growlers to go. 407.352.2305 Complimentary valet parking.
https://experiencethepub.com/orlando/food/all-day-menu/
The Pub offers a unique combination of British hospitality and American flair. The gastropub style menu incorporates brilliant pub fare with an extensive beverage selection.
  Oceanaire Seafood Room
Sunday–Thursday 5 – 9 p.m. Friday and Saturday 5 – 10 p.m. The Oceanaire Seafood Room 407.363.4801 Complimentary valet parking.
https://www.theoceanaire.com/location/orlando-fl/
The Oceanaire® Seafood Room offers an inviting, high-energy atmosphere and features a spacious and comfortable dining room. The Oceanaire® Seafood Room offers ultra-fresh seafood and shellfish flown in daily from around the world. Menu changes daily. Celebrate Dads with a family meal and 15% off your gift card purchase.