The 2020 Taste of EPCOT's International Food & Wine Festival is going on now (since July 15) until late fall, featuring 20 booths and it is kind of in combination with Epcot's International Flower and Garden Festival this year due to the pandemic shutting down the parks back in March when the festival just began.
All 4 Walt Disney World theme parks and Disney Springs are now open. Park attendance is managed via the Disney Park Pass reservation system—to enter a park, both a park reservation and valid admission for the same park on the same date are required for guests ages 3 and up.
Disney Parks has taken enhanced health and safety measures, though there is always an inherent risk of exposure to COVID-19 exists in any public place where people are present.
We were nonetheless pleased to see all the health and safety measures in place to ensure a safe and magical experience. For a full list of measures, visit: disneyworld.disney.go.com/experience-updates/
Disney Parks has implemented their health and safety measures after considering the guidance of government and local health authorities, including the Centers for Disease Control and Prevention (CDC), in addition to the U.S. Travel Association and Disney's team of health experts.
Here are the new health & safety measures at Walt Disney World:
• Limited and carefully managed attendance: All guests will be required to make advanced ticket purchases and reservations.
• Reduced capacity and physical distancing: They have reduced capacity by letting fewer people enter their parks and adjusting experiences to allow for physical distancing. This includes physical distancing in dining experiences, attractions, queues and other locations. Additionally, physical barriers have been installed in areas where physical distancing may be difficult to maintain, like cash registers.
• Temperature checks: Quick temperature checks are required for all guests at entry to their theme parks.
• Face coverings: Are required by both cast members and guests ages two and older to wear a face covering – unless swimming or when eating or drinking.
• Handwashing and hand sanitizer: They have increased the number of hand sanitizer locations and handwashing stations throughout their parks and resorts.
• First Aid locations: Their first aid locations are staffed by experienced nursing staff responding to symptoms of illness.
• Increased cleaning & disinfecting:  Especially for frequently-touched surfaces and high-traffic areas. Following park close, each park will receive an enhanced cleaning before guests arrive the next day.
• Disney apps: With the My Disney Experience and Disneyland apps, guests can view hand sanitizer locations, explore digital menus, and more.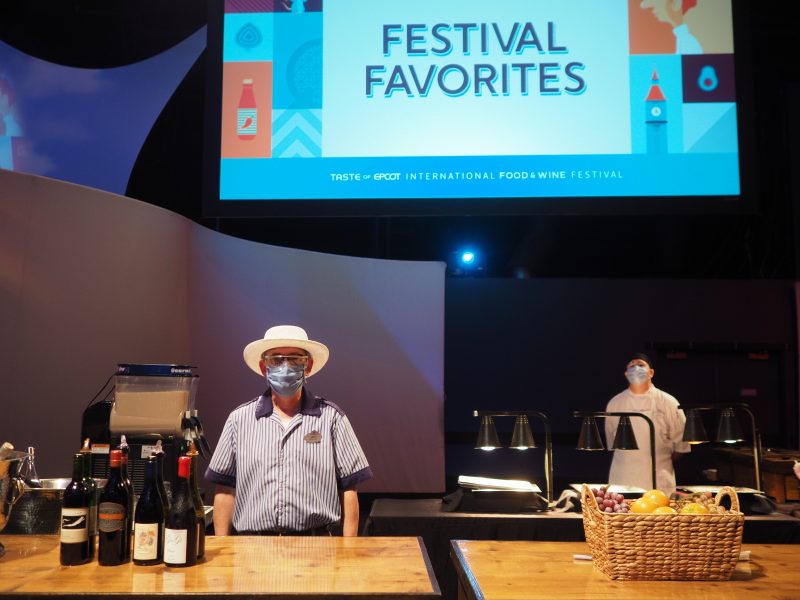 • Limited-contact options: From Mobile Order and cashless payments, to Walt Disney World's MagicBands and online check-in at select locations, technology solutions can make it easier for guests to minimize contact and maintain physical distancing.
• Training: Cast members are receiving additional training on both new measures and the continued importance of personal health and hygiene, such as handwashing and of course, staying home when ill. For some, this includes training on how to help everyone who visits to follow new health and safety measures, including wearing a face covering and maintaining physical distancing.
• Health screenings: Cast members will self-screen for temperature and symptoms of illness before each shift and will stay home if they are not feeling well.
• Social distancing: Every other row was blocked off at the American Gardens Theater in the American Adventure Pavilion to ensure proper social distancing.
Overall, I felt very safe during my visit.
Seafood Boil – Shrimp, Mussels, Crawfish, Potatoes, Corn, and Andouille Sausage from Hops & Barley.
New England Lobster Roll – Warm Lobster with Fresh Herb Mayonnaise and Griddled Roll Southern from Hops & Barley.
To view Disney Parks' Foodie Guide to the 2020 Taste of EPCOT International Food & Wine Festival click here.