Just a few miles away from Disney Springs is Orlando's newest luxury resort JW Marriott Hotel at the Bonnet Creek Resort, which recently opened this past July 1st, 2020.
You may know Bonnet Creek as home to the nearby Hilton Orlando, Waldorf Astoria and Wyndham Grand, but the new JW Marriott is tucked away back along Chelonia Parkway.
The new hotel is excited about the holiday season and has some exciting events planned for their inaugural year.
From shareable bites at Sear + Sea, Christmas buffets at the Unreserved (both day and evening), Gingerbread House Workshop, to week-long offerings from their Unreserved Beer Garden and JW market, JW Marriott Orlando Bonnet Creek has many exciting events planned for Christmas this holiday season.
In addition to their regular menu, there are a few new Christmas specials on the menu going on for the holidays at Sear + Sea Woodfire Grill.
We were invited to get a first look at this year's Christmas offerings at Sear + Sea Woodfire Grill, the hotel's signature culinary steakhouse featuring wood-fired creations from rich cuts of steak to the best of local seafood, and we can't wait to share with you the experience below:
On Christmas Eve & Christmas Day from 5pm – 10pm, Sear + Sea will be offering an  evening of good cheer served with grand shareable dishes including: organic truffle chicken, whole local seafood catches and a grilled double-bone tomahawk steak with seasonal flavored accompaniments.
The regular a la carte menu is also available upon request and reservations, which are required, can be made by calling 407.919.6300.
Step away, relax, and enjoy something new and delicious this holiday season, paired with an artful cocktail or selections from their curated wine wall.
Chef de Cuisine Alex Pyser will be preparing shareable dishes with holiday flavors.  He thought back on his Christmas family gatherings and focused specifically on the side dishes like the candied pumpkin & gourds with bourbon glaze, which he always found more interesting than protein preparations.
The flavors and dishes I got to preview at Sear + Sea – from the Oven Roasted Whole Red Snapper to the Candied Pumpkin & Gourds and more – were all quite innovatively prepared, just very fresh and delicious – perfect for that Christmas family meal.
Oven Roasted Whole Red Snapper – rosemary butter based, champagne – meyer lemon sauce, charred lemons, caught locally right here in Florida from Vero Beach – truly a magnificent fish that went exceptionally well with the accompanying holidays sides.
Candied Pumpkin & Gourds – pumpkins, acorn squash, delicata squash, honeynut squash, blistered red onion, tossed in a maple bourbon glaze, finished with spiced pepitas. Delicious!
Roasted Beets  – with sourdough and fresh horseradish.  A taste of fall and harvest with root vegetable theme.
Baby Lettuce Salad – shaved vegetables, rye seed, avocado, ricotta salata, sherry vinaigrette.
Mac & Cheese – "elevated" creamy mac and cheese crafted with rigatoni pasta in lieu of traditional macaroni, with pimento cheese, and topped with crispy chunks of bacon, and a nice spice from jalapeño.
The fantastic food at Sear + Sea puts the experience among the best I have had in Orlando this year, and dinner for Christmas would be icing on any holiday cake.
With all the delicious offerings, do not forget to order one of the holiday cocktails, like the Vodka Tidings.  My dining companion consumed this festive drink and thoroughly enjoyed it.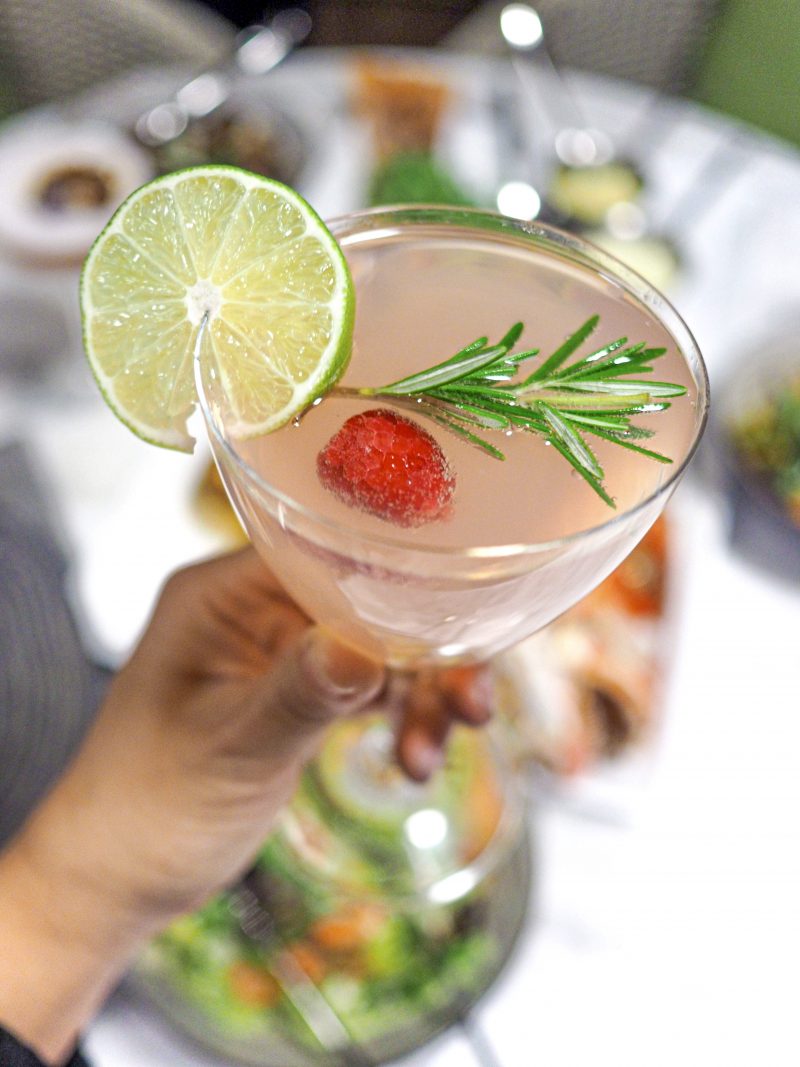 Another cocktail to check out is the Rosemary Beret, made with Hendrick's Gin, torched rosemary, raspberry, lemon, aquafaba.
The most impressive menu offering this year will be their massive signature S+S 76 oz. tomahawk!  It is a Double Bone Tomahawk Ribeye prepared with S+S signature rub, woodfire grilled, and smoked onion whole grain mustard.  Feeds 3-4 people.
These are some behind the scene shots of Chef de Cuisine Alex Pyser selecting my fish, provided by F+B director Daniel M. Schmidt.
The Allen Brothers seafood truck arrives to the hotel daily and Chef Alex walks onto the truck and personally selects the freshest catches to prepare for the evening's dinner service.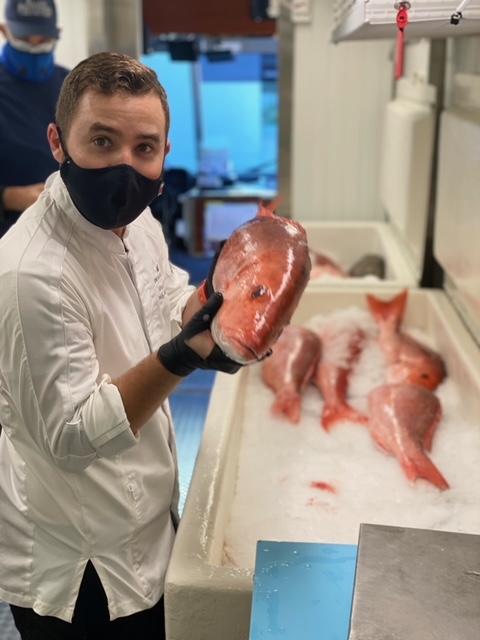 Chef Alex inspects the each fish as well as the ice that it is packed in to ensure the highest quality and freshness.
More Holiday Happenings at JW Marriott Bonnet Creek Resort
Starting now through 12/26 from 4pm – 5pm, hotel guests are invited to enjoy complimentary hot chocolate and holiday cookies in the hotel lobby – a special treat from Saint Nick himself.
Be sure to bring the family to check out JW Marriott Orlando Bonnet Creek for their holiday offerings this year!
Full Christmas Menus at JW Marriott Orlando Bonnet Creek
Sear + Sea at JW Marriott Orlando Bonnet Creek
14900 Chelonia Pkwy, Orlando, FL 32821
https://www.opentable.com/r/sear-and-sea-at-jw-marriott-orlando-bonnet-creek-orlando