June is Pride Month, and we are celebrating by highlighting some of our favorite LGBTQ+ owned foodie spots in Orlando. Diversity and inclusion are an essential part of this city's thriving community. Simply put, Orlando wouldn't be the same without its many minority-owned small businesses and restaurants.
Here are 9 of our favorite local LGBTQ+ owned restaurants in Orlando.
9 of Our Favorite Local LGBTQ+ Owned Restaurants in Orlando
1. Se7en Bites
Trina Gregory-Propst is the owner of Se7en Bites, a bakery and eatery located right in the heart of Orlando's Milk District. This restaurant features a unique menu of southern comfort food, breakfast and brunch favorites, coffee and homemade sweet treats.
"While we celebrate diversity and acceptance year round at Se7en Bites, it does not escape me that this is not everyone's experience," said Gregory-Propst. "Our staff, our chosen family, means the world to us as well as our diverse and colorful community of regulars because no one is a stranger once you feed them with food made with love. We celebrate WITH Pride now and continually til there is equality for ALL people living in our community."
2. The Glass Knife
Steve Brown and his partner Lance own The Glass Knife, a Winter Park staple known for its delectable desserts, pastries, coffee and impressive brunch served every Saturday and Sunday from 8 a.m. to 4 p.m. Now through July 4, with the purchase of a Pride Petite Cake (pictured below), The Glass Knife is donating a portion of all proceeds to The Center Orlando & Kissimmee, a nonprofit working to support and empower the LGBTQ+ community.
3. Chef Art Smith's Homecomin' Florida Kitchen
Chef Art Smith's Homecomin' can be found at Disney Springs, serving up a variety of tasty comfort food. Pride Month has many meanings for Florida native Chef Art Smith, owner of Homecomin' Florida Kitchen & Southern Shine Bar, but inclusiveness is paramount.
"Being part of a team at the Walt Disney World Resort that welcomes guests of all genders, ethnicities and beliefs is part of the magic of the kitchen table," said Chef Art, who has earned two James Beard Foundation Awards. "We learn so much from each other over a meal. And perhaps most important, the more we think we are different – the more in fact we are alike. We are all brothers, sisters, mothers, fathers, aunts, uncles and cousins. We raise children and we care for our families and friends. Pride Month is important for awareness in big and small ways, but we carry the message throughout the year with kindness, open minds and generous spirits."
4. Garp & Fuss
Owned by Chef Liz Zucco and General Manager Nikki Nielsen, Garp & Fuss can be found nestled within The Hidden Garden on Park Ave. in Winter Park. This restaurant offers a creative menu featuring a variety of American fare and unique cocktail creations.
5. Bites & Bubbles
Bites & Bubbles is an Orlando eatery owned by Nick Olivieri and his partner Eddie Nickell. this spot offers light bites, generous entrees and an extensive selection of bubbles and adult beverages. Bites & Bubbles just introduced its all-new Mills50 location, which features a spacious rooftop bar and dining area.
"We have been fortunate to work for mom and pop businesses and even Fortune 500 companies that have embraced us for who we are and always made us feel part of the family," said Co-Owner Nick Olivieri. "When we opened our own restaurant 15 years ago, we vowed to always have a work environment that is inclusive of everyone."
"It has been a long road and there is still plenty of road ahead of us to forge, and with Pride Month we keep marching forward. Because of others before us, Eddie and I are able to own and operate our restaurant living as who we are, and our staff and guests get to be in an environment that celebrates them for who they are. Because of us and Pride Month and so many others, we ensure that the LGBTQ+ community growing up will never again experience the hate and vitriol that so many of us endured. We look forward to a society that is One. One community. One love."
6. Hungry Pants
Stop by Hungry Pants for a generous variety of healthy menu items, most of which are plant-based and/or gluten-free to ensure there's something for everyone to enjoy. Owned by husbands Joey Conicella and Alex Marin, Hungry Pants serves up clean eats in a "fast-fine service" environment that is welcoming to all.
7. The Hammered Lamb
The Hammered Lamb is a bar and restaurant located in Ivanhoe Village, owned by Jason Lambert. This foodie spot is perfect for anybody looking for a night full of drinks and delicious bites. The Brunch & Bloody Mary Bar is available every Saturday and Sunday from 10 a.m. to 4 p.m.
8. Island Time
Island Time is a Caribbean/Southern-fusion restaurant located in Thornton Park near Lake Eola. Devon Tillman is the owner of this vibrant and welcoming foodie spot. Be sure to check out the Drag Brunch at Island Time, available on select Saturdays and Sundays.
9. Hamburger Mary's
Last but certainly not least is Hamburger Mary's Orlando, known for its live entertainment and high-energy performances from local drag queens. Stop by Hamburger Mary's for one its weekly events including Broadway Brunch, Twisted Bingo, Dining with the Divas Variety Show, Marys and Mimosas Brunch Affair and Leigh Shannon's Cabaret Dinner Show.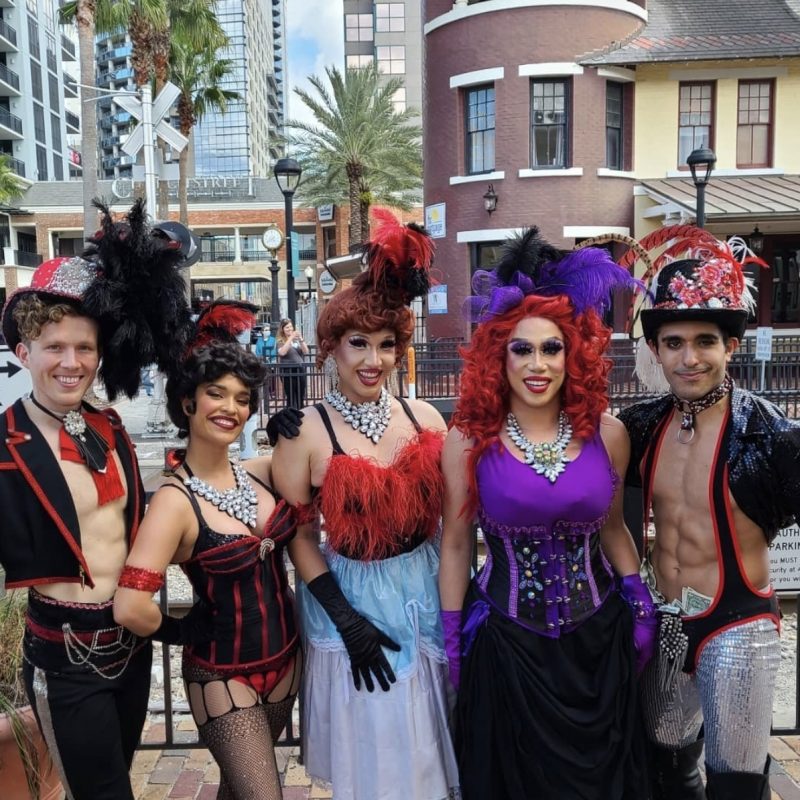 Orlando continues to serve as a mecca of diversity and love, and we are thrilled to watch this city continue to expand its culinary space. Happy Pride!