Wyndham Grand Orlando Resort Bonnet Creek  is set on 62 acres near Walt Disney World Resort including a picturesque 10-acre lake surrounded by walking paths, five pools, two lazy rivers, miniature golf, and much more. But one thing to note – is their fantastic lineup of restaurants and offerings led by an experienced and award-winning food and beverage team.
Indeed, deep blu Seafood Grille at Wyndham Grand Orlando Resort Bonnet Creek recently was awarded Editor's Choice: Best Seafood 2022 by Orlando Magazine. The AAA 4-Diamond restaurant offers some of the freshest seafood and sushi as well as some southern cuisine influences – with highlights featuring crab cakes and grouper, sustainably sourced.
In addition to deep blu, Wyndham Grand Orlando Bonnet Creek is also home to Tesoro Cove for breakfast buffets, and Back Bay, a bar and grill featuring breathtaking views of their picturesque 10-acre lake and casual bar fare and drinks.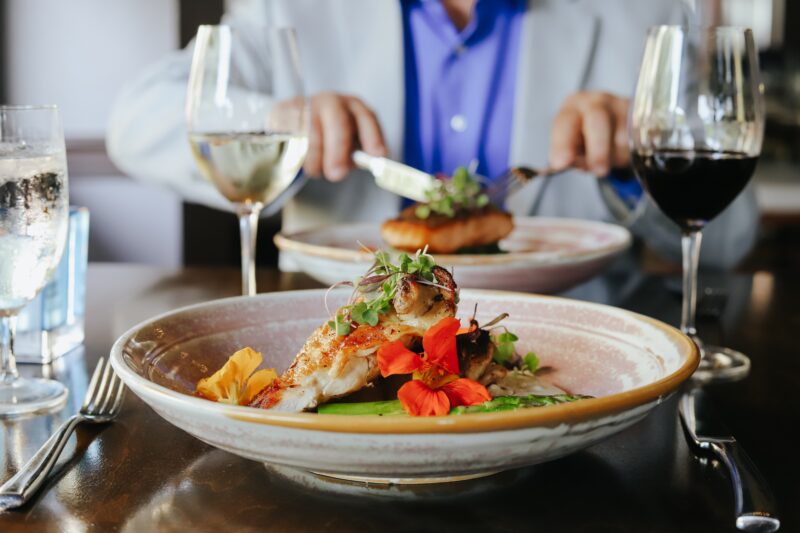 To celebrate their recent award, we partnered with Wyndham Grand Orlando Resort Bonnet Creek for this insightful interview featuring questions and answers from Executive Chef Jonathan McCann, Executive Sous Chef Cecil Rodriguez, and Chef de cuisine Justin Crum of deep blu Seafood Grille. Take a look below to learn more about this fantastic team!

Executive Chef Jonathan McCann
After five years of service in the Royal Merchant Navy, McCann's culinary journey began with training in some of London's top hotels, including Claridge's, The Dorchester and The Berkeley. His first Executive Chef experience was at The Westbury Hotel on fashionable Bond Street in the heart of London. McCann was also named Head Chef for the Lord Mayor of the City of London, where his culinary talents were showcased for Her Majesty Queen Elizabeth II, and numerous foreign dignitaries and politicians.
From London, McCann headed to the United States where he built an impressive career with Hilton Hotels. During his time at the Washington Hilton in D.C., McCann exhibited his acclaimed skills at several presidential events, including President Obama's Inauguration Ball. Other notable career highlights include appearances on BBC Celebrity Master Chef and winning the British Prix Pierre Taittinger culinary competition.
As Executive Chef of the Wyndham Grand Orlando Resort Bonnet Creek, Chef Jonathan is an enthusiastic ambassador of the resort's culinary excellence and dining options, which range from award-winning fine dining to casual eateries. With five separate dining venues under the direction of the illustrious Chef Jonathan, the resort expertly prepares and serves a variety of options to please any taste.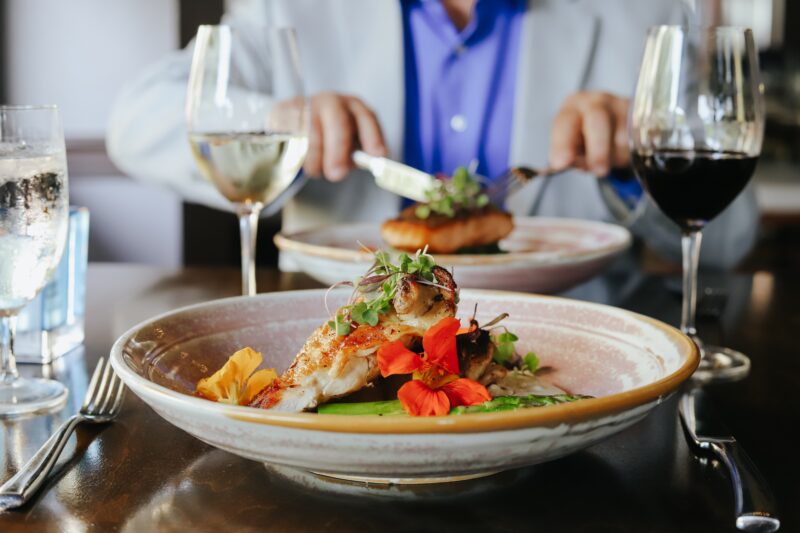 What is your inspiration for becoming a chef?
Chef McCann: I had more of a passion than inspiration…I wanted to travel and see the world so I started as a galley boy in the British merchant Navy and just kind of fell into the culinary industry. I was offered a job as a commis chef onboard the Cunard cruise liner QE2, and loved it and that was the beginning of my journey. From there I went to college and then London hotel kitchens.
What are your favorite food memories growing up?
Unfortunately, my Mum wasn't a great cook and didn't enjoy cooking! But, her Shepherd's Pie was really good and memories of her mincing the lamb in an old hand meat grinder and stealing pieces of carrot while she chopped them is huge for me! The other memory is my grandmother's Yorkshire pudding!
What are some favorite lessons you learned that helped you become the chef you are today?
I was trained in London within very classical French kitchens. Big lessons from that time are:
A. Always use the best and freshest ingredients possible.
B Taste taste and taste again….look for flavor before you think about presentation
C. Be organized and have a plan
D. Never ever give up on anything.
E. Surround yourself with talented people.
Favorite dishes on property right now?
Deep blu ceviche is definitely a big favorite… the flavors are so bright! The Mexican spiced chocolate cake… Chef Cecil's mezcal caramel is to die for… I could drink it lol! In Back Bay I love the falafel pita….flavorsome and healthy too! Absolutely everything on our sushi menu in 1521… our sushi Chef Karl does a great job up there!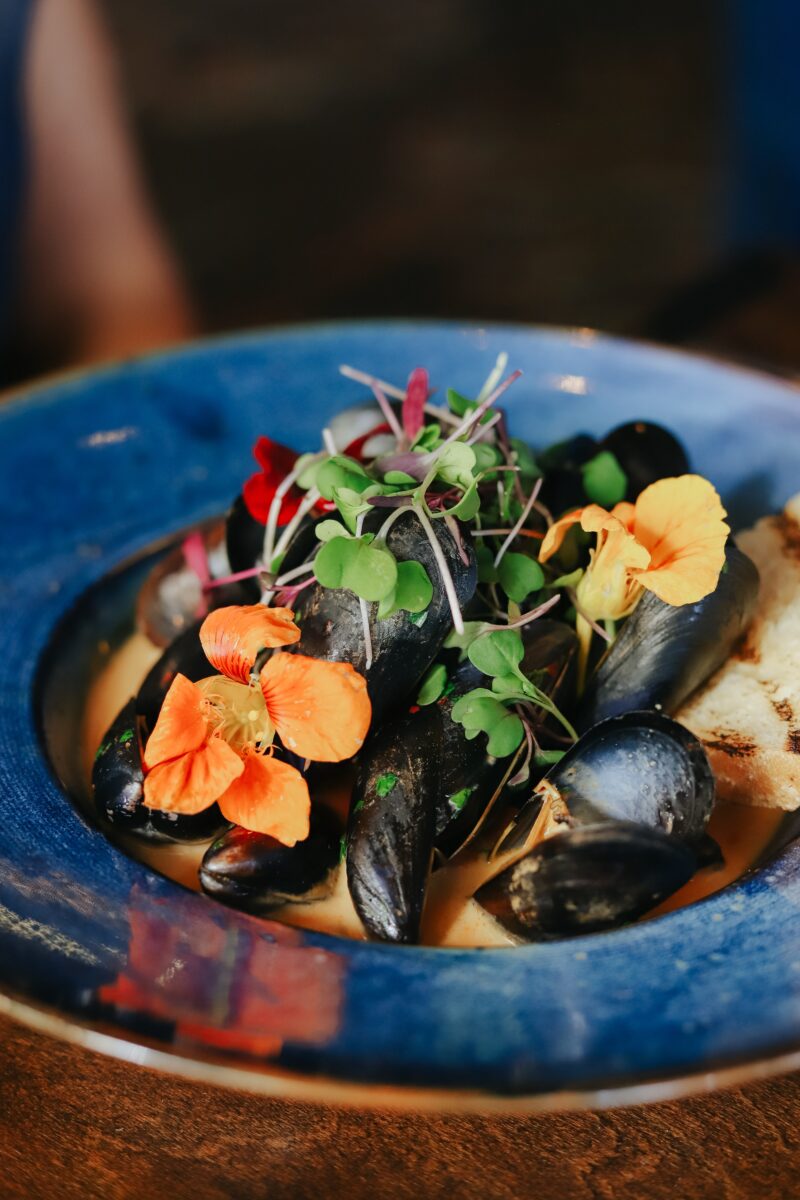 Favorite comfort food to make at home? 
Has to be Shepherd's Pie….if I have had a rough day my wife will make it for me and with a can of Boddingtons beer it goes down well!
Food memories are so evocative and to me that's what it's all about…. Eating or smelling something you remember can make you time travel!
Upcoming Plans?
We have a great Thanksgiving buffet coming up and a great Turkey special in deep blu…. Then we have Christmas and New Year specials in deep blu, plus lots going on in our other outlets – So we have lots to keep us going and look forward to. We are also hoping to do a couple of evening themed chefs pop ups in Tesoro and have some fun with that…more to come on that!

Executive Sous Chef Cecil Rodriguez
A native of Arecibo, Puerto Rico, Rodriguez recognized his interest in cooking while watching Greatest Chef on America on TV at his grandmother's home. In his teenage years, he attended culinary technical courses that fueled his love for cooking and would lead him to attend UNE in Carolina, Puerto Rico, where he studied Culinary Arts. While there, Rodriguez landed an apprenticeship with renowned Chef Wilo Benet in the Restaurant Pikayo inside the Museum of Art in Carolina, PR. After earning his degree, he relocated to Orlando, Florida, where he worked in various restaurants and theme parks. Most recently, Rodriguez was a Chef at the meetings-centric Omni Orlando Resort at Champions Gate, as well as Chef de Cuisine at Loews Royal Pacific Resort and Hard Rock Hotel Orlando. Rodriguez approaches his craft with a sustainable and seasonal consideration, appreciating that food is meant to be enjoyed.
When it comes to culinary excellence, Wyndham Grand Orlando Resort Bonnet Creek delivers stellar dining options at five distinct food outlets – from a casual lakeside sports bar to an elegant, award-winning restaurant and sushi bar. For any mood or craving, the resort serves up thoughtful, seasonally sourced options, all carefully prepared by its exceptional culinary team.
What is your inspiration for becoming a chef?
Chef Rodriguez: When I was little, my grandmother and dad were always in the kitchen cooking. But, besides that, I always had a fascination with the kitchen. I used to sit by the TV watching Greatest Chef of America on PBS. And, Julia Child, even though I didn't know how important she was in the culinary world.
What are your favorite food memories growing up?
The holidays were a very exciting time growing up in Puerto Rico. We used to have block parties and roast whole pigs on the spit. There was always someone making Coquito or pastels – the music and food went hand-in-hand.
What are some favorite lessons you learned that helped you become the chef you are today?
I've been very fortunate to work with some very talented people coming up, and they've all shared one trade they were focused on and always trying to perfect. I believe hard work and focus are key; and, also follow your heart when it comes to food.
Favorite dishes on property right now?
I will have to say the Snapper Veracruz in deep blu, and the BBQ Bourbon burger at Back Bay.
Favorite comfort food to make at home?
I just love Pastelon , which is like a lasagna made with sweet plantains and Picadillo ground beef with spices.
Chef de cuisine Justin Crum of deep blu Seafood Grille
"Justin's background in fine dining and upscale venues is perfectly in line with the kind of next level experience we provide at deep blu," said General Manager Cathy Zucker. "He will further enhance our menu offerings with his southern roots and first-class touch."
Having spent more than two decades in the restaurant industry, Crum was most recently Chef de Cuisine at the elegant Eleven rooftop restaurant at the four-diamond Reunion Resort & Golf Club in Central Florida. He has also held Executive Chef titles at The Country Club in Ocala (Florida) and Eagle Creek Golf Club in Lake Nona (Florida). Crum worked his way up in the industry, starting as a dishwasher at the age of 16 before moving to food runner, busser, and then bartender. At 21, he moved to the Hamptons to gain fine-dining experience. From behind the bar, he was drawn to the energy and excitement of the kitchen and enrolled in Le Cordon Bleu culinary school where he graduated in 2004. Again, making his way up the ranks, Crum started crafting his culinary skills as a line cook. A Central Florida native, Crum is inspired by southern and Floribbean influences, which is reflected in some of his favorite dishes, including, shrimp & grits, fried green tomatoes, and ropa vieja.
What is your inspiration for becoming a chef?
Chef Crum: I was working in the Hamptons as a bartender and was drawn to the kitchen by the chef. He took a simple menu and elevated it into amazing dishes.
What are your favorite food memories growing up?
The soul food my grandma cooked and my uncle owned a small bbq restaurant in Kissimmee so that's where my passion for smoked meats comes from.
What are some favorite lessons you learned that helped you become the chef you are today?
Work hard and be humble.
Favorite dishes on property right now?
deep blu's grouper and crab cakes, and the Rajun Cajun roll in Bar 1521
Favorite comfort food to make at home?
Bbq ribs and pork belly burnt ends
Big thank you to the Wyndham Grand team for taking time to speak with us at Tasty Chomps! Visit them soon!

Wyndham Grand Orlando Resort Bonnet Creek
14651 Chelonia Pkwy,
Orlando, FL 32821
Reservations: (407) 390-2300