I recently visited Bull and Bear as part of a media event to feature the ongoing Food and Wine Weekends at Waldorf Astoria and Hilton Bonnet Creek. In addition to trying out some of the special menu for the weekend events, my dining companions and I also had the chance to try some regular staples at Bull and Bear.
As I have said before, the Bull and Bear Restaurant at the Waldorf Astoria Orlando is one of the finest restaurants in Orlando and is probably one of the most overlooked.

Bull and Bear's Executive Chef Massimo Falsini
The restaurant is led by Executive Chef Massimo Falsini, a world class chef who has served as Executive chef at Hilton in Dubai along with Sous Chef Daniel Tederous, a former executive chef at The Capital Grille, Tampa, along with a list of fine restaurants in Atlanta.
If Orlando had a Michelin guide, the Bull and Bear at the Waldorf Astoria Orlando would be one of the few restaurants in Orlando I could see making the list.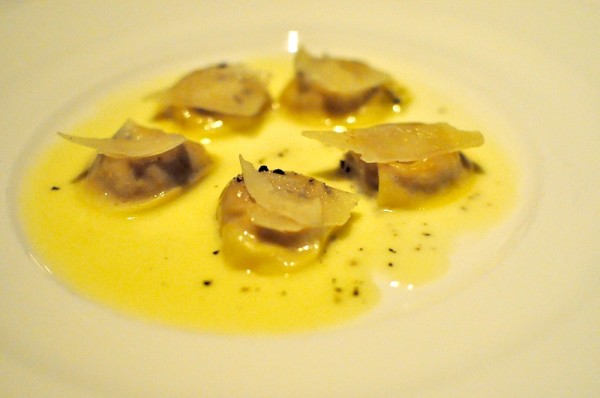 Pasta Explosion at Bull and Bear, Waldorf Astoria Orlando
One of the standouts from many standouts was the Pasta Explosion, house made ravioli stuffed with an airy carbonara mousse, parmegiano reggiano cheese, and serrano ham in a white sauce. The name may sound a bit ostenatious, but it aptly and succinctly describes this wonderful dish that just explodes in your mouth with an array of delicate, layered flavors from the serrano ham and parmagiano reggiano cheese filling.

Escargot & Gnocchi – Shimeji mushroom, black garlic
The escargot and gnocchi dish was also a huge favorite among my dining companions – very nice flavors with the shimeji mushrooms and escargots complementing each other in texture, and perfectly seared gnocchi that will make you dream about this dish later on, wishing there was more.

Roasted Colorado Lamb – Ras al Hanout tagine, Beluga Lentils, Jamon Serrano
The roasted Colorado Lamb dish is inspired from Chef Massimo's time in the middle east, serving as executive chef at the Hilton in Dubai. It was one of the most requested dishes from the wife of a sultan who would often visit his restaurant.
The roasted lamb features a Ras el hanout spice, a spice mix from North Africa is Arabic for "head of the shop" and implies a mixture of the best spices the seller has to offer. Commonly used ingredients for the spice mixture include cardamom, clove, cinnamon, ground chili peppers, coriander, cumin, peppercorn, paprika, fenugreek, and turmeric.
The lamb is just melt in your mouth tender and delicious, placed on top of cooked beluga lentils and topped with a sprig of rosemary.
The pastry team at the Bull and Bear is legendary, no doubt with some influence from Francis Metais, food and beverage director at the Waldorf Astoria Orlando, also a pastry chef by training.
The signature dessert is the "Lemon", made from a hollowed out casing of a lemon. The lemon fruit is then used to make a lemon curd, cream, and sorbet – all edible and very unique – and then filled back into the lemon casing.
Chocolate Bar. The Chocolate Bar is decadence defined – creamy, smooth Valrhona Carmelia Chocolate with a vodka infused chocolate syrup and a rice krispies center.

WALDORF BEIGNETS – CHOCOLATE SAUCE, MADAGASCAR CUSTARD

BULL & BEAR CHEESECAKE – TOPPED WITH WILD STRAWBERRY & PINOT GRIGIO JELLY, LENTIL CRUST
All in all, Bull and Bear is one of the best restaurants I have tried in Orlando and think they are definitely worthy of more awards. I think it has got to be one of my favorite restaurants that I have visited this year along with Flying Fish Cafe at Disney's Boardwalk. The prices are a bit more on the fine dining end, but very much well worth it.
Photos taken by Krystle Nguyen with the Nikon D5000 DSLR