Atlanta is just a stone's throw away from Orlando (about 8 hour drive) and makes for a nice extended weekend trip. On past trips, I've explored the Coca-Cola Museum ( a must see – quench yourself at the soda stations featuring Coca Cola soda products from around the world at the end of the tour) and the Georgia Aquarium as well as CNN's headquarters downtown near the Olympic Park.
This visit is a little more low key with a visit to the Atlanta History Center (very cool to see the historic Swan House / mansion – you'll think you're in an episode of the Georgian Downton Abbey). And food – always the center piece of our travels…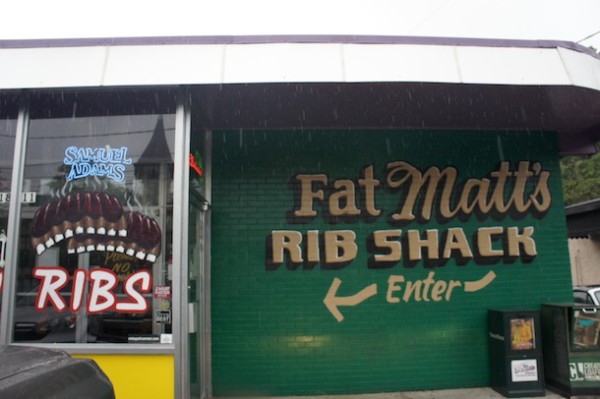 Fat Matt's Rib Shack – Atlanta
1811 Piedmont Rd NE, Atlanta, GA 30324
(404) 607-1622
Great little barbecue place in Atlanta, Fat Matt's Rib Shack has been around since 1990 serving up affordable and delicious barbecue slathered ribs. The menu is sparing, just ribs, pork sandwich, chicken, and some sides.
The ribs at Fat Matt's are lipsmacking good but the sides were a bit of a let down – I got the mac and cheese and collard greens and they were good, but just missing a little something. I suppose I am spoiled by 4 Rivers' great variety of sides here in Orlando.
Overall, for the price, it was worth it and I enjoyed my ribs wholeheartedly.
Order up at the counter, and make sure you are ready cause the lady at the counter doesn't take any sass or hesitation. The servers are pretty nice though here. Very popular with the locals, with live jazz music in the evenings.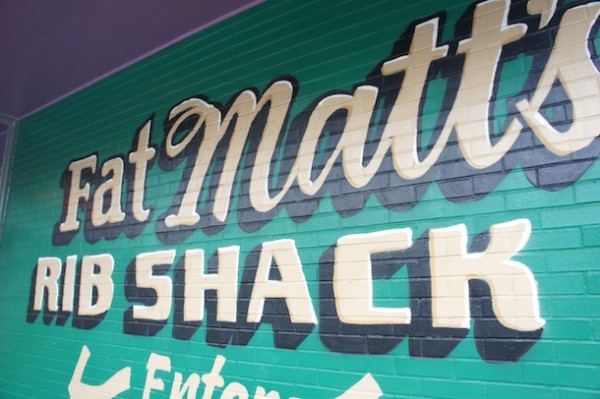 Umaido
2790 Lawrenceville Suwanee Rd
Suwanee, GA 30024
(678) 318-8568
http://www.umaidos.com/
About 25 minutes north of Atlanta in the small town of Suwanee, you can find this unassuming ramen shop that makes some of the best ramen I've tasted on the east coast. Umaido ramen features tonkotsu style ramen based out of Hakata Japan, with a broth made of pork bones that is simmered to a milky, creamy consistency. They make their noodles in house and you can watch them making the dough at the front. Service is good, if a little slow. You can sit at the bar and watch the ramen chefs at work. Also, with the Korean influence in the area, there are a few "spicy" Korean style renditions of ramen here as well.
I ordered the original pork tonkotsu ramen, with sliced cha shu roast pork, soft boiled egg, and tree ear mushrooms. The soup was divine and the noodles were thin and chewy, just right. Reminded me of Ippudo without the 3 hour wait. Overall, excellent ramen. Most everything under $10.
Umaido's menu
JCT Kitchen & Bar
1198 Howell Mill Rd NW
Atlanta, GA 30318
http://www.jctkitchen.com/
This "Southern" style restaurant puts a nice gastropub twist on Southern classics with an upscale, casual atmosphere. Make sure to get reservations though as it does get packed. Enjoy some cocktails before or after dinner upstairs at the bar. Prices are reasonable for the portions you get, around $20 for most mains and $10 for appetizers. The JCT rendition of Fried Chicken, slightly sweet with honey and sprinkled with some sliced green onions and available in limited supply, it is among the best fried chicken I've ever tried. In the sprawling complex with Star Provisions group, also housing Atlanta's acclaimed Baccanalia restaurant next door.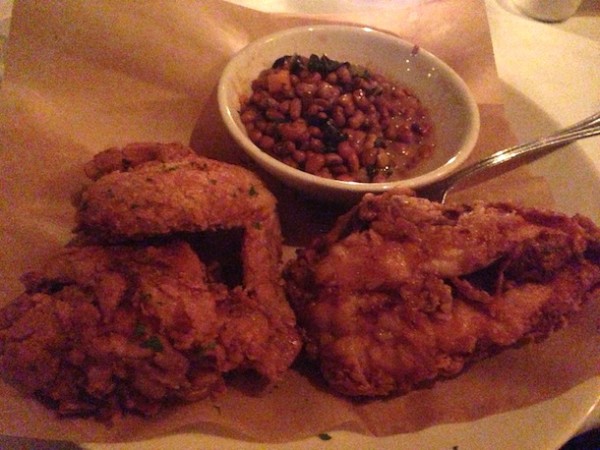 Pardon the lighting – it was dark – JCT Fried Chicken –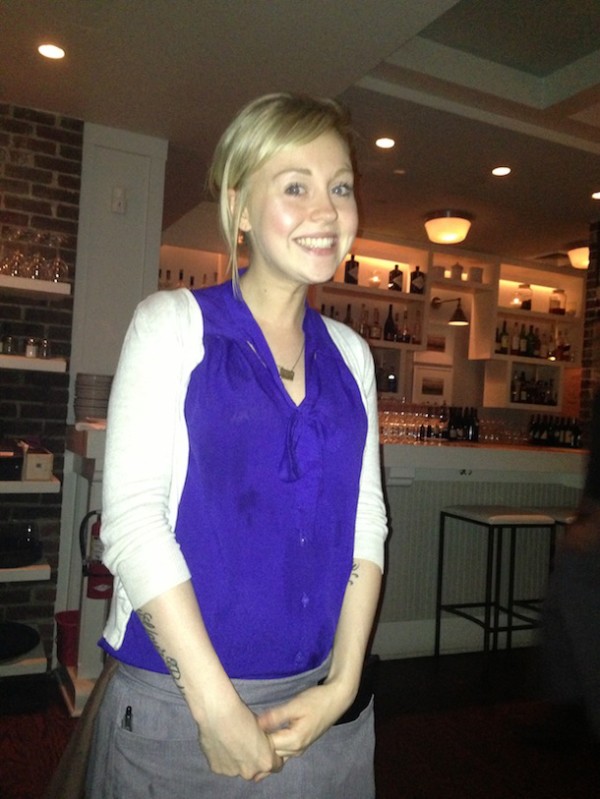 Our wonderful server! – "Follow Your Bliss"
Upstairs at the bar – crowded, lively, sexy
Dessert was all fantastic sadly I forget what they were called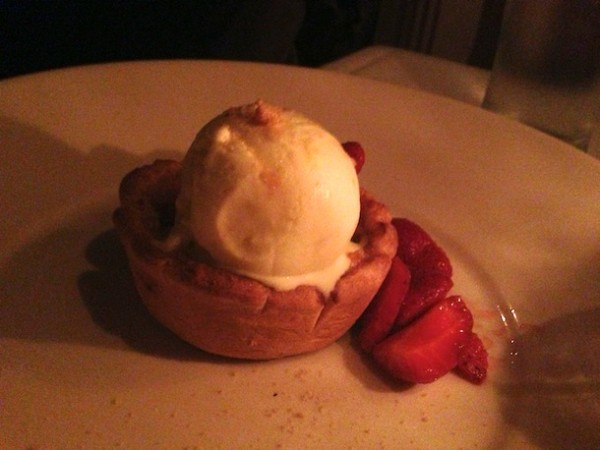 Jang Su Jang
3645 Satellite Blvd
Duluth, GA 30096
http://www.jangsujangatlanta.com/
This slightly hidden Korean restaurant in Duluth (kind of like a Korea town north of Atlanta) is known for their ssam, or wraps. Bossam is a type of ssam in Korean cuisine in which steamed or roasted pork is wrapped in a leaf vegetable such as red lettuce or sesame leaf, often accompanied by condiments known as ssamjang or gochujang. It can even be wrapped in a kimchi leaf. It is usually topped with raw or cooked garlic, onion, freshly made kimchi, saeujeot (pickled fermented shrimp), or other pickles. There is a lot of food that comes with this dish and it is fun to make your own wraps and share with your mates.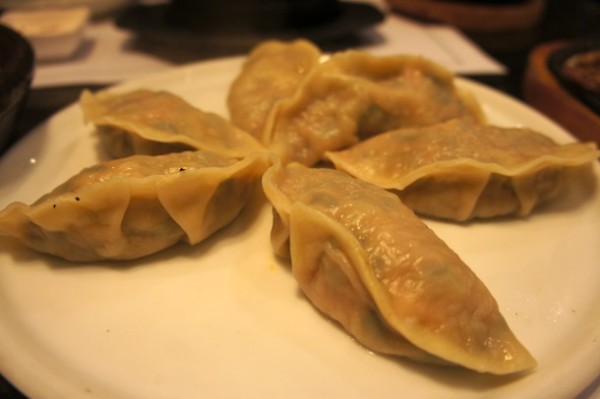 SunO Dessert
2570 Pleasant Hill Rd. Suite 101
Duluth, GA 30096
http://www.sunodessert.com/
Also in Duluth, this place is a favorite dessert spot selling "snow" creamy shaved ice with fruit and sweet toppings. It's like eating snow topped with strawberries and pineapple and condensed milk – so very good. I think it is similar to the Korean dessert  patbingsu shaved ice or Filipino halo halo, but the snow here is flavored and creamy…addicting without too much of the guilty dessert feeling.
Strawberry, pineapple, and condensed milk
Mochi and red beans
Takorea
818 Juniper Street
Atlanta, GA 3030
http://mytakorea.com/
Located in Atlanta's Midtown, this taco house (literally located in a renovated house), fuses together Korean flavors in Mexican taco and burrito form. Taco fillings include Korean style bbq pork, calamari, fried chicken, and more. The "takos" were just okay…but my favorite thing here was the sesame fries. Crispy, crunchy thick french fries, fried in sesame oil with a dash of Korean chili pepper flakes. I need to get some more soon! someone make them pleaseee