Sugarbuzz Dezert Company is a new and upcoming bakery known for their delicious desserts, especially their cookies and pies. Ron James, the founder and owner, attended the San Francisco Baking Institute before starting his business while working full-time at another job. Ron invited us into his bakery and we were more than happy to take a little tour of their bakery, hear about the history and the making as well as photograph some delicious treats. Our visit consisted of a pleasant conversation and desserts with flavors that lived up to their beautiful presentation.
They are known for their pies and cookies, but they also sell cupcakes and slices or whole cheesecake and cakes. All of Ron's desserts are made from scratch – including the delicious caramel for the cookies you'll soon see below.
The Peanut Butter Pie is absolutely creamy in every bite in contrast to its chocolate crust and dark chocolate sauce on top. Alone, this reminds you of chocolate peanut butter cup candies, but whipped cream and shaved chocolate peanut butter candy bar is actually added to amplify the heavenly taste.
The Key Lime Pie is a classic charmer that is tasteful for a hot summer day. It's a sweet and tart dessert due to its fresh squeezed key lime juice.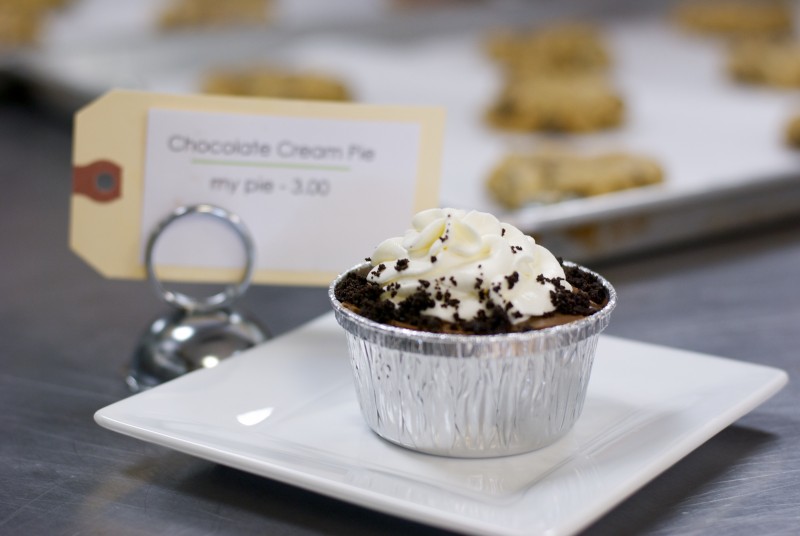 The Chocolate Cream Pie is perfect for any chocolate lover because it has dark chocolate filling on a chocolate sandwich cookie crust (before topped with whipped cream).
The Chocolate Cheesecake is an alternate to the Chocolate Cream Pie and it has gluten free options available. It's also made with deliciously rich dark chocolate and a chocolate cookie crust. This is one of my favorites because I love creamy dark chocolate and have been looking for a nice chocolate cheesecake to savor.
At Sugarbuzz Dezert Company, a variety of cookies are created including the Snickerdoodle above and the cookie below with pecans, caramel and sea salt, which contains the caramel Ron made from scratch.
Sugarbuzz Dezert Company is found in a little nook next to a nail salon.
Address:
4339 Edgewater Drive, Orlando, FL 32804
Hours:
Tuesday-Friday 10:30am-6pm
Saturday: 10:30am-5pm