On June 10th 2016, the Sofrito community celebrated their one year anniversary. Sofrito Latin Cafe is a Latin restaurant opened by Maria and Carlos. They offer a communal dining experience and serves dishes from all over Latin America.
Their goal is to make this restaurant a community space as they desire guests to come, relax and feel that they are at home. This is just what we did as everyone was very welcoming and joyful; our waiter was the best and Maria, herself, walked around to greet all of her guests to ensure we all had a wonderful time.
Along with tasty foods, Sofrito offers natural juices (orange, guava, passion fruit, mango, and sour-sop) and Latin canned sodas as well as water and milk. We tried the guava and passion fruit juices. Both were great; the passion fruit is a tart juice and guava is sweeter, but it is not overpoweringly sweet.
In the back, we have the fried corn-flour Colombian Empanada filled with beef, potatoes, and spices. In the front, there is a Cheese Mini Tequeño and two Venezuelan Empanadas. The Cheese Mini Tequeños are baked pastry dough surrounding cheese; they are chewy, savory, and delicious.
The Venezuelan Empanada are slightly fried and filled with shredded chicken or beef. Both the Colombian Empanada and Venezuelan Empanadas are nice to try, but we prefer the Venezuelan as the sweet corn-flour added a great touch to the empanada along with the moist, sweet, and tender meat.
The Cachapa is a traditional Venezuelan sweet corn pancake filled with Queso de Mano (Artisan Handmade white soft cheese) and topped with cream. (Add shredded beef or roasted pork for an extra $3). This is one of my favorites because of all the cheese. The cheese has a similar texture and taste to mozzarella.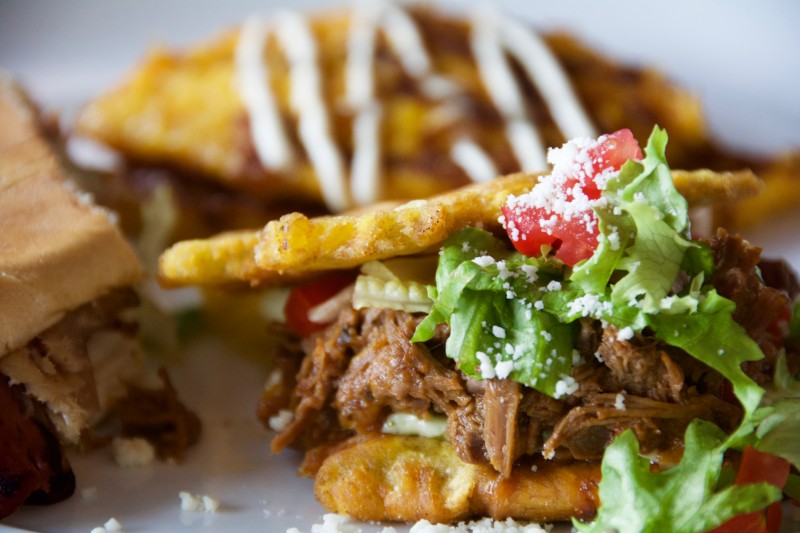 The Patacon Venezuelan sandwich consists of shredded beef or pork, lettuce, tomato, cheese, and a homemade cilantro-garlic sauce kept together by two fried green plantains. The fried green plantains have a good texture and holds the content in well. The shredded beef has delicious flavors, but I wish it was more tender.
Cuban Sandwiches are known by many and can be found at a number of places in Florida. Sofrito makes their Cuban sandwiches with ham, house-made roasted pork, Swiss cheese, house-made pickles, and mustard in Cuban bread before being pressed. This specific one did not make my list of favorite Cuban sandwiches. The bread is a bit tough and dry for each bite. Also, the contents were a bit too salty for my preferences.
The Nutella Empanada is a fried pastry stuffed with Nutella and dusted with powdered sugar. It smells even better than it looks and it looks beautiful. I am sure it tastes just as great! Unfortunately, we did not try it due to allergies.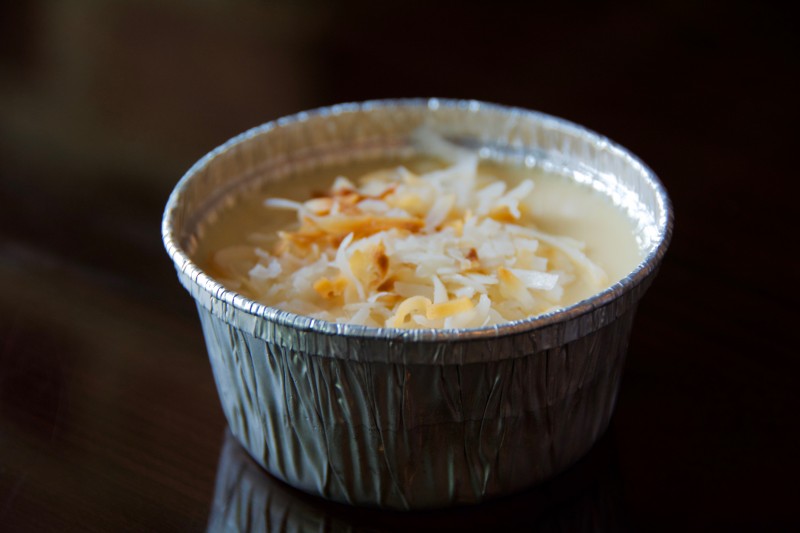 The Coconut Flan is an egg custard with subtle hints of coconut. This has to be my favorite item on the menu (out of the items we tried) because desserts are the best and this was just heavenly with the texture at the consistency I like my flan to be at. Would I go back for more of this Coconut Flan? Absolutely! I am drooling just thinking about it now.
Fun Facts about Sofrito Latin Cafe:
Maria's and Carlos' Favorite Entrees: Roasted Pork and Rotisserie Chicken
Most Popular Plates: Cuban sandwich, Tripleta Sandwich, and Cheese Tequeños
Maria's Dessert Obsession: Tres Leche
Location: 8607 PALM PKWY, ORLANDO, FL, 32836
More information: Sofrito Latin Cafe