"Tiffins" is an indian word to describe a lunch box used by travelers for a light meal during the day. Tiffins, the restaurant, is meant to showcase the experiences of the Imagineers as they travel the globe to research and design the unique park of Disney's Animal Kingdom here in Orlando, Florida.
We began our journey in the Nomad Lounge, and like Tiffin's it also focuses on storytelling. Each hang tag above the bar are from guests' own anecdotes that inspires the cocktails on the menu. They can be purchased for 1.00$ and 0.85$ will be donated to Disney's conservation funds.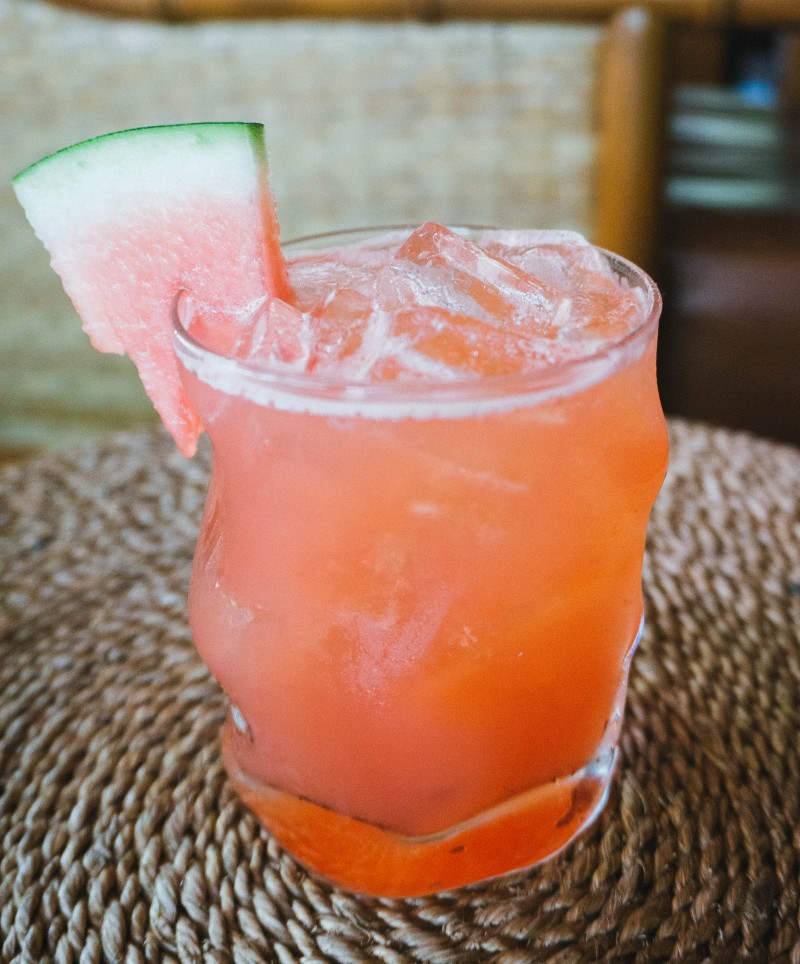 This was recommended to me by the staff at Guest Relations as he raved on about how much he loves Tiffins. The Hightower Rocks has bits of lime leaves, sweet and sour mix, house watermelon batch, and silver tequila. Definitely refreshing!
We start off with our first course. On the left is the salad of Roasted Baby Beets with goat cheese crema, walnut granola, and sun-dried cherry vinaigrette. Then it's the Sustainable Seasonal Fish Crudo, which currently is the Japanese Hamachi with a roasted corn salsa.

Our second course is the Black-Eyed Pea Fritters with Zhough Yogurt and Peppadew Puree.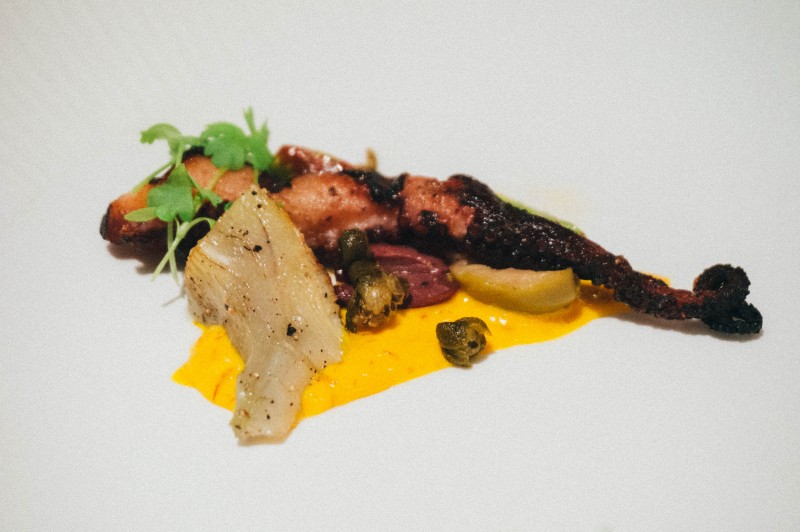 Marinated Grilled Octopus with an artichoke barigoule, saffron aioli, lemon-caper olive oil.  The Octopus had been sous vide for about 5 hours and then quickly tossed on the grill for a nice char.
For my main entree I chose the Whole-Fried Sustainable Fish. This one happens to be a Yellowtail Snapper with fermented black bean sauce, Som tam, and peanuts.
This dish is quite familiar to me and brought out a comforting feeling. The fish was light and mild with the perfect texture. I thought it was genius to set up the fish the way it is on the plate as well, usually it's laid on one side. However, with the fish sitting up, one side of the fish did not get dull and soggy while the other side remain crispy.
I was able to snap some of the other guests main entree choices as well.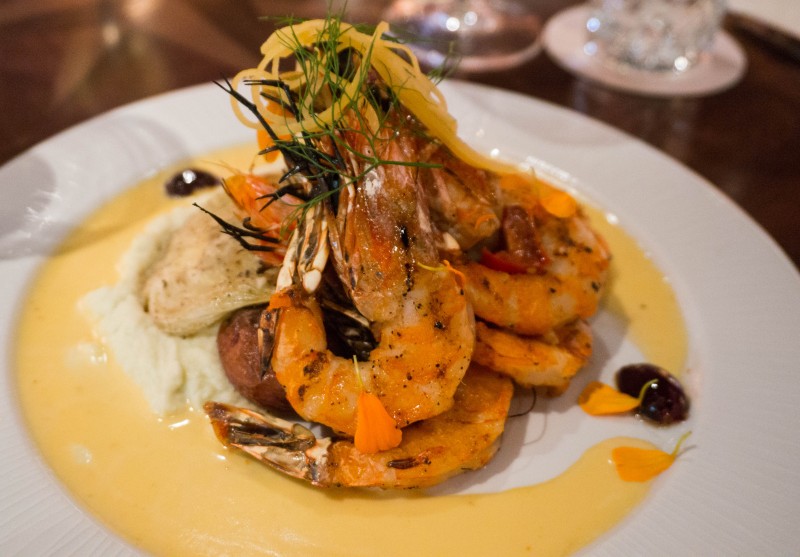 Grilled Head-On Prawns with tomatoes, roasted fennel, olives, and sea urchin butter sauce.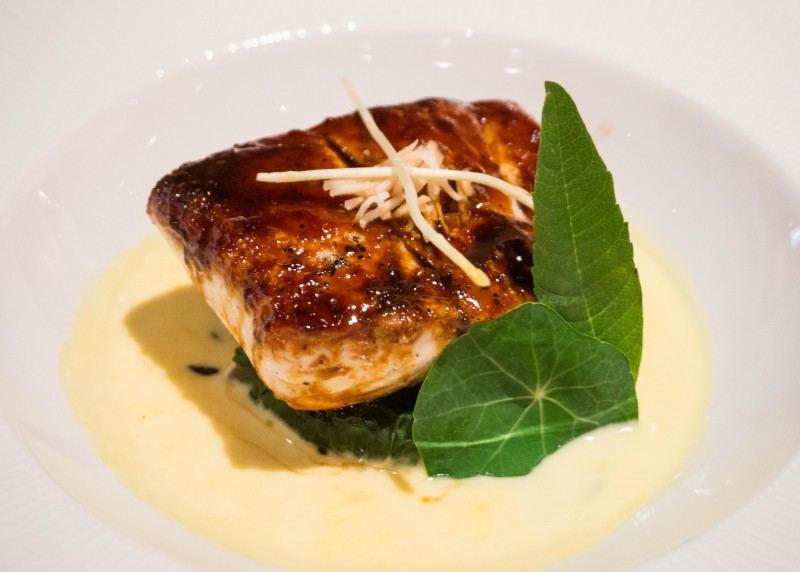 Hosin-Glazed Halibut with forbidden rice, swiss chard, and turmeric sauce.
Berbere-Spiced Lamb Chop with mustard greens, lentil stew, and tomato-mint jam.
We approached the end of dinner with a teensy cup of Mustang, an Ethiopian inspired coffee made with brown sugar, butter, and Crown Royal. Definitely perked me up a bit.
Dessert was a sampler of Calamansi Mousse (front), Lime Cheesecake (left), Passion Fruit Tapioca (back), and South American Chocolate Ganache (right). My favorite would have to be the lime cheesecake. I'm usually not a lemon/lime dessert fan but the flavour was so delicate that I thoroughly enjoyed every bite.
The magical aspect about Disney's signature restaurant is that you forget you're still in the little town of Orlando, Florida. The incredible details of sculptures and rich stories that are offered along with the dining experience really have you believe that you are one of the imagineers traveling the world. 
The travel-inspired artwork includes a static, three-dimensional piece that features prayer flags blowing in the wind. "As our research team traveled up the high mountains of Nepal, the winds were strong," explained O'Brien. "The prayer flags are rarely seen hanging, they are always blowing." This portrayal of the motion is realistically captured in the display which will hang above a corner booth in the Trek Gallery.
"Tiffins is not about a make-believe place, it's about real people and places," said O'Brien.