"Women in the Kitchen: A Celebration at Lake Meadow" will celebrate and support the James Beard Foundation's work in advancing women in the culinary industry. This seated four-course dinner takes place on the beautiful grounds of Lake Meadow Naturals farm and will feature food from James Beard Foundation Award-winning women chefs and restaurateurs from across the country.
The Women in Culinary Leadership is an accelerated, learning-by-doing mentorship program. Offered under the auspices of the James Beard Foundation, WCL gives women with a background in hospitality or the culinary arts and at least two years of relevant work experience a chance to work with top industry leaders and build in-depth skills in the kitchen or in restaurant management and hospitality. The James Beard Foundation is committed to correcting the gender imbalance in the restaurant/culinary industry by cultivating, training, and supporting women throughout their professional careers.
This event proudly supports the James Beard Foundation's Women Entrepreneur Leadership Program, an annual fellowship for a class of women to attend an entrepreneurship and leadership training program developed with and hosted at Babson College. Curriculum will address basic business and finance concerns, provide gender-specific training and skill development, provide access to top mentors in the field, and provide ongoing support to participants.
Host Chef:
JBF Award Nominee Kathleen Blake (The Rusty Spoon, Orlando)
Participating Chefs:
Paula DaSilva (Artisan Beach House, Miami)
Katharine Elder (Elderslie Farm, Bramble Café, Valley Center)
Adrienne Grenier (3030 Ocean, Fort Lauderdale)
JBF Award Winner Melissa Kelly (Primo, Rockland)
JBF Award Winner and Board Chair Emily Luchetti (The Cavalier, Leo's Oyster Bar, Marlowe, and The Park Tavern, San Francisco)
2012 Atlanta Rising Star Whitney Otawka (Cumberland Island), JBF Award Nominee
JBF Award Nominee Jennifer Puccio (Marlowe, Park Tavern, The Cavalier, San Francisco)
JBF Award Winner Anne Quatrano (Bacchanalia, Star Provisions, Floataway Cafe, Little Bacch, W.H. Stiles Fish Camp, SUMMERLAND, Atlanta)
Gloriann Rivera (1921 by Norman Van Aken, Mount Dora)
Music by Beth McKee.
DATE AND TIME
Sun, April 23, 2017
3:00 PM – 6:30 PM EDT
LOCATION
Lake Meadow Naturals
10000 Mark Adam Road
Ocoee, FL 34761
TICKETS – $150
www.womeninthekitchen.eventbrite.com
We spoke to Chef Kathleen Blake of The Rusty Spoon (who was recently nominated for a James Beard Award for Best Chef of the South) about the upcoming benefit dinner.
1. How did this team of amazing wonderful chefs come together for this dinner?
I invited them! I spent 36 hours in San Francisco cooking for the first fundraiser for this program. The program is the first of its kind geared to those of us that are seasoned in our careers. I wanted to keep the momentum going. Some are chefs I met along the way, some I have worked for or with and all INSPIRE me!
2. What are some challenges you have faced in the culinary world as a woman and how did you overcome them?
Being taken seriously, I still get, "Can I speak to a Manager or the Owner", and raising a family. I just did it, as far as the family part! I chose my bosses carefully and worked in the type of restaurants where I knew I would learn the most. As far as being taken seriously, I just smile and say, "That's ME!"!
3. What advice do you have to young women who wish to go into the culinary field?
Do the research! Don't job hop, look for chefs that provide you with great ingredients, a structured atmosphere, and challenge you to taste and try!! Be fearless about starting at the bottom! It takes TALENT to multitask and an educated palette to get seasoning on point.
4. What are some dishes that might be featured at the dinner (I know it is a little early!)
Melissa Kelly, PRIMO, will be doing pasta. Anne Quatrano, Bacchanalia, StarProvisions, FloatAway, WH Stiles Fish Camp, Little Bacch, SUMMERLAND, will be doing a delish fish crudo. Paula DaSilva and Adrienne Greiner are teaming up for the Hor d'oeuvres and Emily Luchetti, on dessert. Of course there will be lots of eggs from Lake Meadow!
5. Chef Kathleen, you recently were nominated for the James Beard Award – how do you feel about this and what do you think makes your food stand out?
YAHOOOOOOOOOOO!!! It just affirms my philosophy of cooking within the seasons and buying as much local, thoughtfully grown and responsibly sourced ingredients as possible. They require minimal manipulation and that flavor stands out! Also, Central Florida deserves recognition for all the great dining options – so many talented chefs and so many ingredients right here!
6. What are your most popular dishes right now at The Rusty Spoon?
Always the stuffed deviled eggs, the crudité's, the "55" and the fresh pastas. We have a Chef's Whim that changes daily – Today, Lake Meadow Pork Hocks, tomorrow, Florida Softshell crabs arrive!
7. What do you cook for yourself when you are looking for "comfort food", say after a long day at work?
EGGS! I'm also obsessed with an Indian comfort food, kitchari (a dish made with rice and lentils_ right now.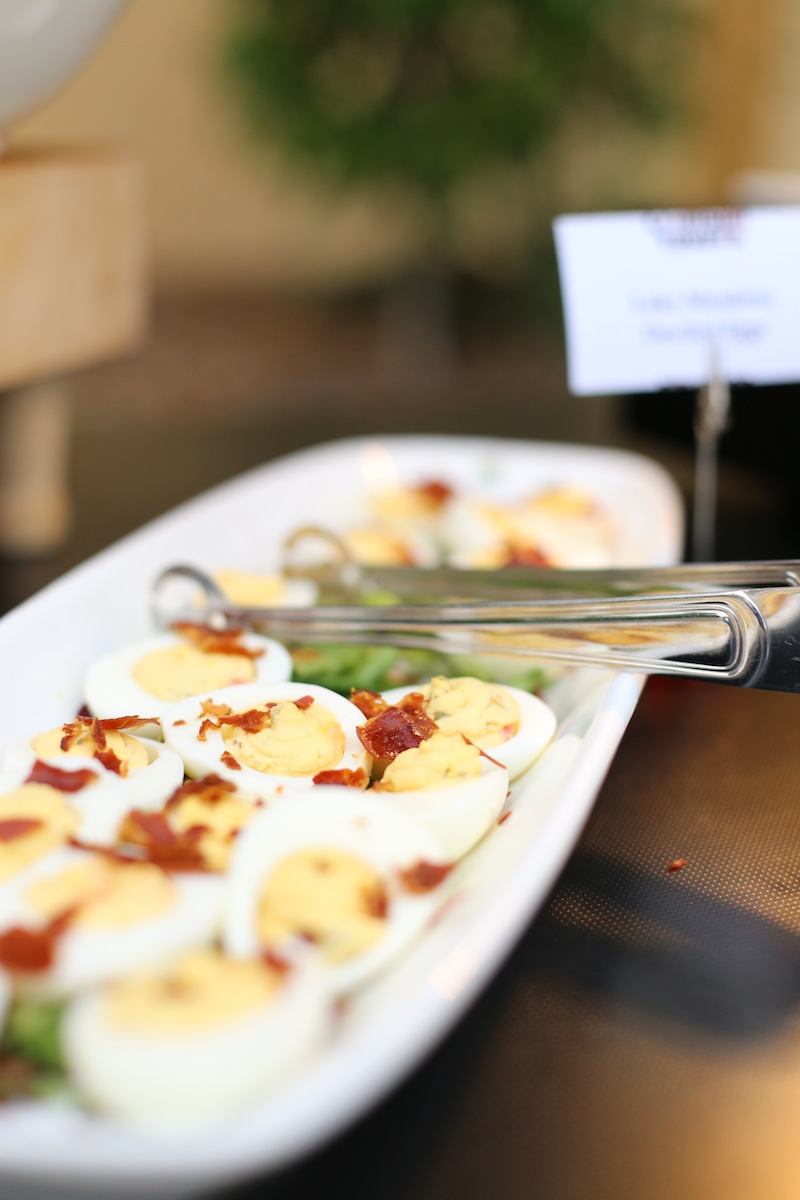 Lake Meadows Naturals Deviled Eggs