At Duffy's Sports Grill, Chef Eric Parker allowed us to have a sneak peak of his new healthy spring menu insert at Duffy's Sports Grill and I am more than happy to share it with you all. The new menu will launch in April and it includes Orange Ginger Mahi, Tuna Poke Stack, Burrata Salad, and Tequila Lime Shrimp Tacos.
Burrata Salad – Burrata cheese served with local vine-ripe tomatoes and power greens, finished with balsamic and fig dressing. The greens and tomatoes are very fresh while the balsamic and fig dressing adds a sweet note to the dish. The Burrata cheese is a nice creamy touch and ties all of the flavors together.
Tuna Poke Stack – Ahi Tuna tossed with Duffy's signature poke sauce stacked with freshly made pineapple salsa and mashed avocados, dusted with nori and tossed sesame seeds, Sriracha smear. Although Duffy's is known as a sports grill, they do not hide from adding new and unique dishes, such as this. I thoroughly enjoyed this fresh dish and would come back for more!
Tequila Lime Shrimp Tacos – 3 mini flour tortillas loaded with marinated grilled shrimp, shredded cabbage, homemade pico de gallo and guacamole. Make sure you ask for lime as it adds a nice citrus touch to the dish and we all know I love lime.
Also, you can't have your Tequila Lime Shrimp Tacos without some tequila!
It was great having a sit down with Chef Eric Parker and a shot of tequila.
Orange Ginger Mahi – is a sweet and lean Mahi Mahi with an orange ginger glaze over stir fried Soba noodles with broccoli, red bell peppers and onion, finished with pineapple salsa. I am not too fond of the Soba noodle flavors, but the Mahi Mahi was pretty great.
Key Lime Pie – cool and creamy key lime filling in a rich graham cracker crust. Duffy's mentioned how it is an oversized piece of tropical bliss and they were not wrong.
Red Velvet Mini Donuts – red velvet mini donuts spun in sugar and served warm with cream cheese icing for dipping.
The donuts are very fluffy and moist.
As you can tell, this dish is one of my favorite items on the menu.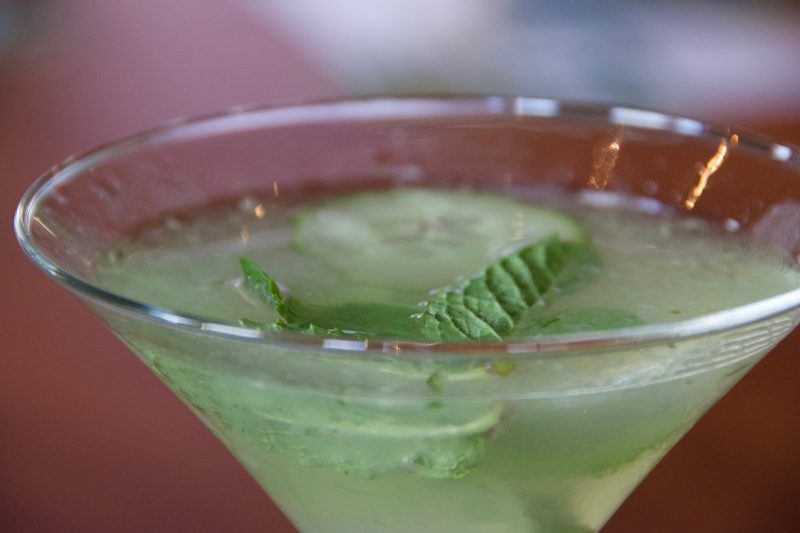 Duffy's wouldn't be Duffy's with some delicious drinks. They are adding Effen Cucumber Martini and St-Germaine Cooler to their drink menu. Pictured is the Effen Cucumber Martini, which is a refreshing take on a classic cocktail, Effen Cucumber Vodka, agave syrup, mint, and a splash of lime.
Visit a nearby Duffy's Sports Grill this month to experience the new healthy dishes yourself.