"All steaks need a certain size of thickness" – Chef Jens
We were invited to Darden Restaurants headquarters to experience Grill Master training first hand from LongHorn Steakhouse's Executive Chef team in their test kitchen.  We met with Executive Chefs Jens Dahlmann, Michael Senich and Joshua Evans and they gave us all our own chef's coat to wear (and keep!) and then demonstrated how to make a great tasting steak at LongHorn Steakhouse.  Afterwords we enjoyed some freshly grilled steaks and corn, deliciously bold seasoned wings and Wild West shrimp.  We also got to meet LongHorn Steakhouse President Todd Burrowes to learn more about LongHorn Steakhouse's third annual Steak Master Series competition that was happening the next day at the same spot we were training at. The third annual Steak Master Series, which awards cash prizes totaling over $200,000, celebrates LongHorn Steakhouse's commitment to craftsmanship on the grill.
The Steak Master Series is an epic culinary competition where their top-performing grilling experts compete for title of national champion.  More than 5,000 Grill Masters from all across the nation were invited to participate this year.  The seven finalists – including a Central Florida Grill Master from the Sanford restaurant – competed for the championship title this past Thursday in the LongHorn Steakhouse test kitchen at Darden Restaurants headquarters.
This year's Steak Master Series winner was Michelle Cerveny.  She was the first woman to win the Steak Master Series for LongHorn Steakhouse!  Kim Markley was the second place winner, and our local guy, Juan Sacramento from the LongHorn in Sanford, received third place.  He is officially one of the top 3 Grill Masters for LongHorn from across the country!
Michelle, Juan and all of this year's finalists will be manning the GRILL US Hotline this upcoming Wednesday, July 4 from 10 a.m. to 4 p.m. EST! Call 1-855-LH-GRILL (544-7455) to talk to them directly. These knowledgeable LongHorn Steakhouse Grill Masters will be happy to answer any of your recipe or grilling questions!

John from Longhorn Steakhouse marketing with Longhorn Steakhouse President Todd Burrowes
Executive Chefs Michael Senich, Joshua Evans and Jens Dahlmann listening closely to President Todd Burrowes speak
My very first chef's coat
Chef Jens going over all the different types of steaks
The judging criteria at the Steak Masters Series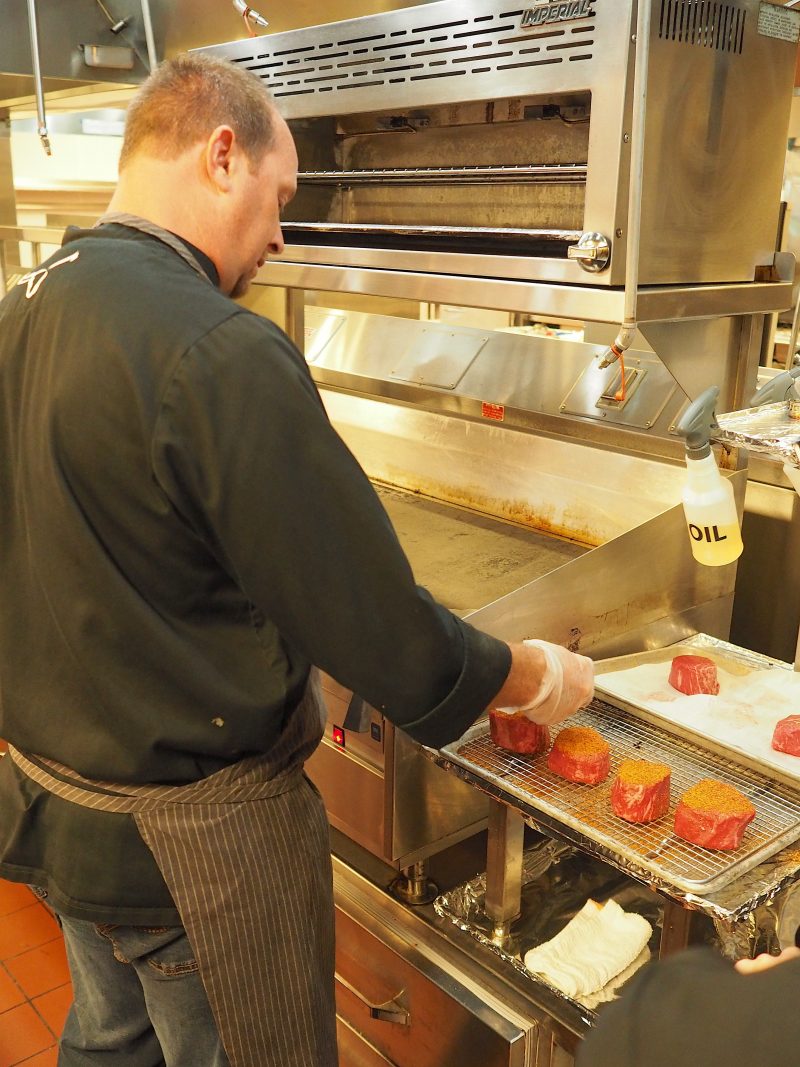 Chef Michael demonstrating how to make a great tasting steak. Tip #1: Always overseason
Tip #2: Season one way, top to bottom
Tip #3: Always cook from the back first.  That is the hottest part so it cooks the fastest
Chef Joshua manning the grill
Baked potato
Wild west shrimp – freshly breaded to order
Boldy seasoned wings
Delicious sliced steak.  LongHorn Steakhouse always applies a finishing sauce on all of their steaks for moisture
Fire-grilled corn
Thank you LongHorn Steakhouse for the awesome gift bag!!
(Source credit: LongHorn Steakhouse)
For more information, please visit https://www.longhornsteakhouse.com/events/steak-master-series