Absolutely outstanding experience last night at Tapa Toro. Chef Frank Galeano, who is set to take on the executive chef position at Tapa Toro on the month of October, 2018  and I had been talking about doing something like this for a small group of people for a while until we finally pulled the trigger and finalized the details about 2 weeks ago. The goal was to have a fun tasting menu in a casual setting and let the creativity and talent run free but most important of all to have a great time. Chef Frank was truly thrilled and enthusiastic about doing this dinner and it showed all throughout the night. I think I speak for all us who attended the dinner that every single dish was just Fantastic. The play of different flavors profiles and cultural influences on the dishes were super well balanced and beautifully harmonized.
The first Dish was the perfect one to awaken the palate followed by the incredibly delicious Veggie dish which was of my personal favorites, those two dishes were key to set the rest of the fantastic dinner going forward. The Marinated Foie, Lobster, Octopus, Uni, Duck, Aged Ribeye with Cured Jamón Ibérico Lard and last but not least the excellent dessert made by Chef @Lucy Champeaux was the perfect ending.
It is evident that our local talent is scattered all over the city and International Drive and possibly other areas that carry the same touristy stigma are not always talent-deprived
The meal I had last night was EASILY one of the best meals I've ever had in Orlando. You just never know where you gonna find your next great meal, ironically, I found it in one of the areas I avoid the most.
If any of you fellow foodies ever want to do something like this, please do not hesitate to contact Frank or Wendy and they will be happy to set something up for you that will suit your taste and budget, in fact they were encouraging us to request special dinners as they love to do it and it gives them the opportunity to be creative and do what Chefs love to do.
I'm looking forward to do this again at Tapa Toro and also with Different Chefs around town that are willing to do this kind of stuff. Already in the talks with a few of our favorites restaurants in town to possibly do another tasting.
Special thanks to all my guests for Joining me basically blindfolded as none of us knew what we were in for and  of course Tapa Toro for the Hospitality and incredible dinner.
Crudo Nórdico
Pastrami cured salmon / Horseradish & meyer lemon panna cotta / Pickled beet / tarragon aioli / tarragon oil / Fennel
Texturas de Zanahorias
Ember roasted carrot, golden carrot gel, orange-coriander glazed white carrot, raw carrot salad, warm labneh, turmeric oil, carrot powder and sumac.
Mar y Campo
Butter poached lobster, saffron Peruvian potato, baby zucchini, Brown butter popcorn, Marea's octopus-pomodoro 'bouillabaisse', soft herbs
Duck n Waffles.
Vegetable ash & spice marinated Hudson Valley foie gras, Belgian waffle, pink peppercorn honey, currants.
Pulpo del sur de España
Pulpo 'adobado', gazpacho blanco, charred eggplant purée, preserved lemon gel, smoked marcona almonds, cous-cous en tinta de sepia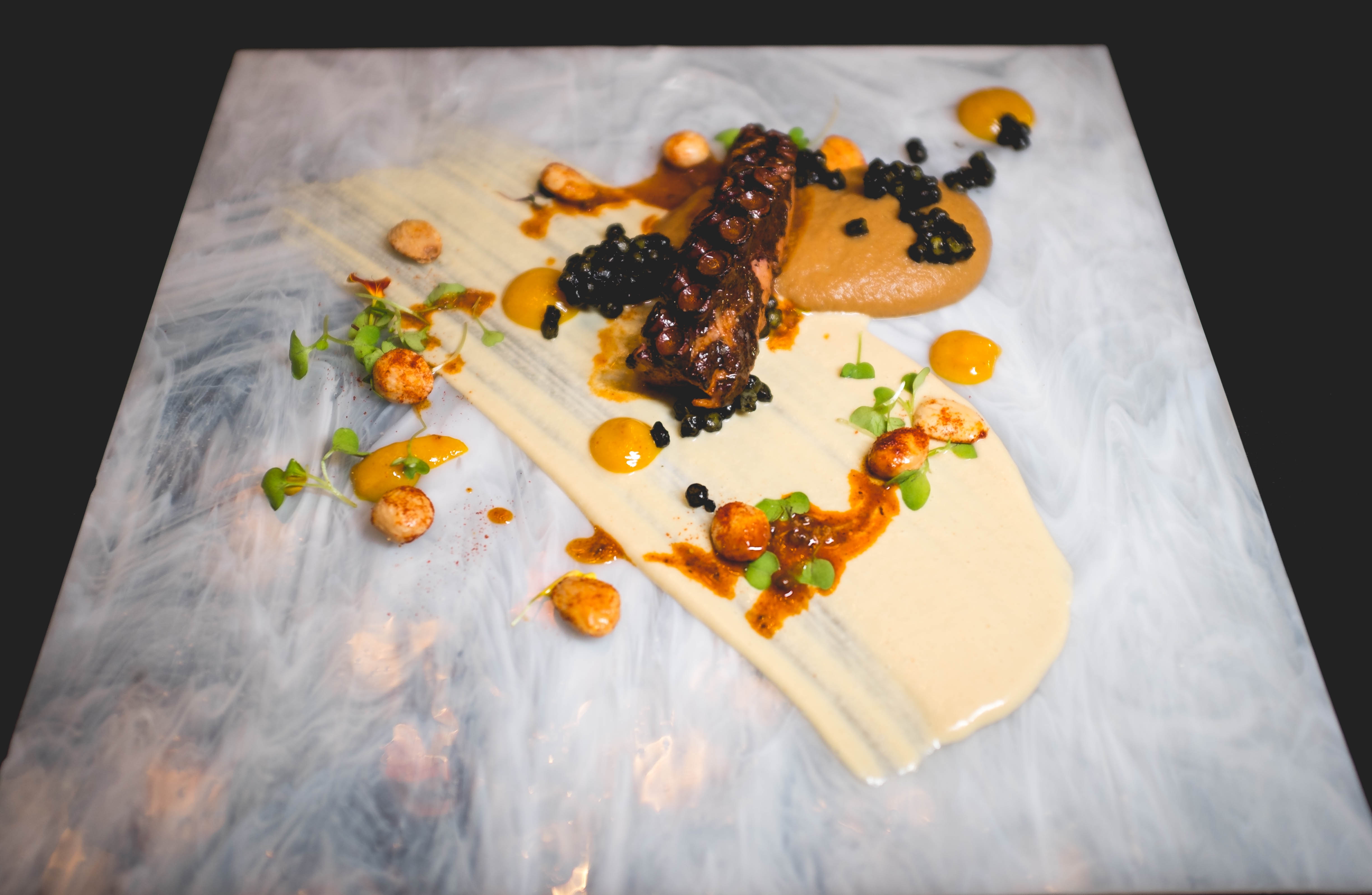 Uni Po' Boy
Santa Barbara fresh uni, romaine wrapped and steamed uni, caper aioli, tomato jam, lettuce creme, avocado and Meyer lemon oil
Mole de Pato, 
Molasses lacquered Maple Leaf Farms duck breast, coriander crust, mole Nuevo, pickled Florida strawberries, Spiced meringue
Ribeye & Iberico
Aged angus ribeye, smoked garbanzo velvet, caramelized onion and jerez agrodolce, jamón ibérico 'lardo', chive, sauce bordelaise
Sleepy Hollow
Dark chocolate Bavarian cream, Black cherry jam and German chocolate cake filling, chantilly, kirsch cherries, luxardo cherries, blueberry sorbet.
8441 International Dr #260, Orlando, FL 32819