BurgerFI is known for crafting their all-natural burgers using natural Angus beef, free of hormones, steroids and antibiotics. Their menu also includes hand-cut fries, Veggie burger, Grilled Chicken sandwich, a veggie quinoa based burger, and a plant-based Beyond Burger as well as frozen custard desserts. From time to time, they feature limited edition special burgers.
In honor of National Hamburger Month, BurgerFi has launched a new twist on a classic street food dish with roots in the Venezuelan Arepa (corn cakes).
The Venezuelan street-food inspired Street Stack features Griddle Corn Cakes (arepas), an All-Natural Angus Beef Patty, melted White Cheddar and Mozzarella Cheeses and Smoky Bacon & Charred Jalapeno Pico de Gallo. Also, $1 from each sandwich will go back to St. Jude Children's Research Hospital to help end childhood cancer.
Here Is A Look at the BURGERFI Street Snack Burger in all its Glory:
The Street Stack burger – cheesy and glorious with a sweet corn cake bun
Very good Onion Rings from BurgerFI – a nice light crunch to them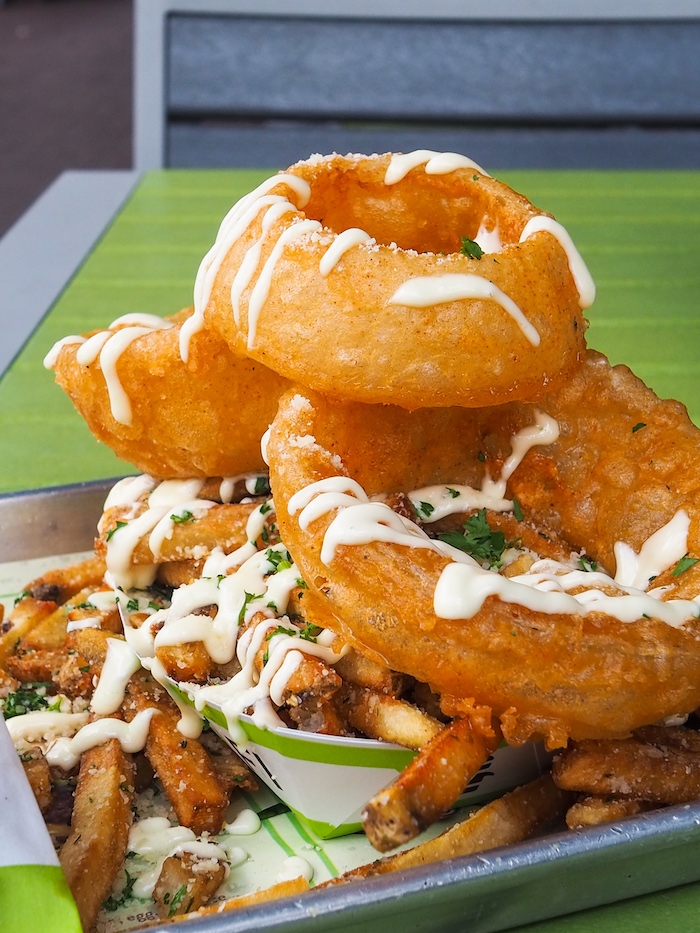 CRY + FRY – Hand-Cut Fries, Double Battered Onion Rings "Urban Style" with garlic aioli sauce
BurgerFi will also be offering $5 BurgerFi Cheeseburgers on National Hamburger Day on Tuesday, May 28.*
538 S Park Ave, Winter Park, FL 32789
https://burgerfi.com/