There's a very good, new barbecue spot hidden inside a gas station off of Lake Mary Boulevard in Sanford. Git-N-Messy BBQ is the brainchild of Chef Chuck Cobb featuring barbecue smoked using aged live oak wood chips. Their menu includes smoked chicken, ribs, brisket, and more.
We speak with Chef Chuck Cobb about his journey as a chef as well as the creation of Git-N-Messy BBQ.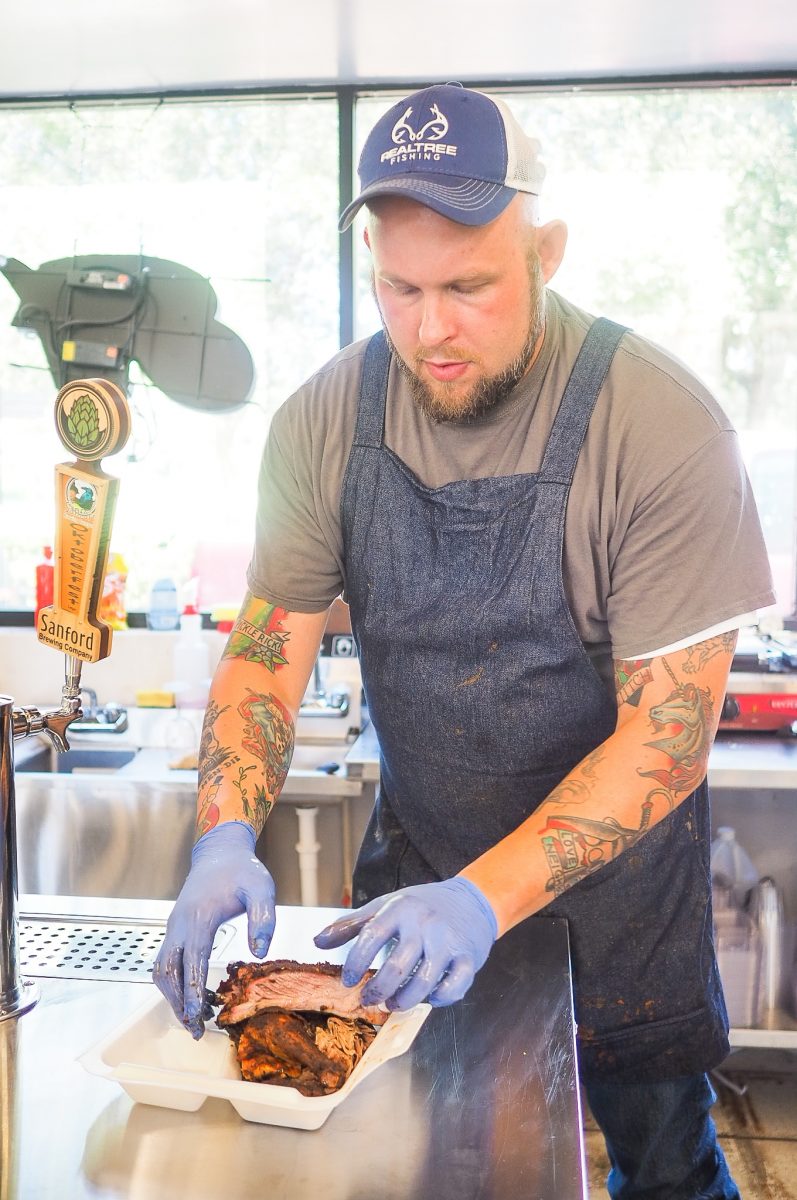 "Growing up I always enjoyed eating Thanksgiving dinners at my Nanna and Uncle James' house," Chef Cobb said. "My uncle made this amazing sauce that we brushed over slow smoked BBQ pork that was spicy but heavenly delicious. It took me 30 years before I was allowed to have the ingredients to this recipe for his sauce and it is now one of our best BBQ sauces on the menu. We just call it tangy sauce – it has a Heinz 57 base but that's about all I can say. I made a promise to hold the recipe and not share it."
"I use lump charcoal instead of briquettes, I use oak wood that has been aged for 7 months, producing a dry but still wet wood that just produces a perfect flavor and aroma that I think a lot of BBQ places have forgotten."
"The most important thing about great BBQ is the amount of time you spend learning about the craft. Any great chef will admit he doesn't know anything and is constantly learning – and I believe that holding onto that notion and concept has been able to allow me to produce such an amazing product that everyone enjoys to this day."
"Honestly what makes the food at Git-n-Messy delicious is the dedication that all chefs put into their creations. The dry rubs are simple but have depth, The sauces are simple as well but paired with the correct meats are an exceptional compliment."
Many years ago when he was a teenager, Chef Chuck Cobb – before he was a chef – started off as the fried chicken cook at Hardee's – the fast food restaurant. Young Chuck worked pretty much fast food his whole teenage career before moving into his adult career with culinary training at Orlando's Le Cordon Bleu.
Chef Cobb tells us, "I tried attending Le Cordon Bleu in Orlando where the teachers and chefs realized I had a natural talent to put dishes together on the whim. They advised me to leave school and go out into the actual restaurant world. So, I did."
Since then, he has worked at local Orlando restaurants such as Pig Floyd's, Blu on the Avenue, White Wolf Café, Sushi Pop, Yuki Hana, Vera Asian, and numerous places acquiring skill sets while watching other chefs – always learning, adapting, and configuring it all into his own.
He's had his ups and downs along the way, including challenges such as other chefs stealing his ideas and creations for their own merit, and not being appreciated for his hard work and dedication. "I had all of this culinary skill but no one ever really believed in it or in me – they just saw me as an employee." That's when he decided to go try it out on his own.
Some projects he worked on his own before Git-n-Messy BBQ include the very popular, though short-lived sushi "pop-up" Zoetic Sushi.
Chef Cobb tells us, "Everyone knew me for creating traditional Edo sushi and aged fish in downtown Sanford with my partners Max and Janine Hoskins. They are home remodelers and have all the heavy machinery needed to do a great job. It was an amazing journey but at the risk of the Hoskins neglecting their main business focus, we decided it was time to let Zoetic go 3 months into it."
"Afterwards, Shaun Noonan from Dixie Dharma actually reached out for my proposal of doing a Sushi and Ramen venture inside Sanford food hall concept – Henry's Depot – a culinary collective. The offer is still on the table but I have a feeling unless I clone myself I may have to revisit that venture at a later date. But who knows what the future holds."
Git-n- Messy BBQ transpired one day while Chef Cobb was sitting at home deciding what he should do and where he should go after having his youngest son with autism come to live with him.
"It was difficult to hold a regular job due to his behaviors, and therefore I figured I should do something together with him that would allow me to customize myself to his unique needs. So after doing some research I decided on the name filed a fictitious name application, found my pig eating a rib clip art bought the rights to that and bought a smoker Trailer and Git-n-Messy was born."
"At first, it was tough as I mainly did events and traveled – but it allowed me to focus on my son and be there to get him to a helpful and useful place in his life. He will come to work with me on occasion. Git-n-messy was put on hold for awhile. I needed substantial income so I went back to work. It wasn't until working for Ozlem at Vera Asian in Lake Mary and her kind words and push to become my own venture that I went out and first created Zoetic Sushi."
"But after that I was browsing Facebook and saw Sanford Express wanted to do a culinary project inside the gas station. When I saw the beer on tap I immediately thought of BBQ. So after short talks with Ruben Perez and Josh Santos, they believed in my concept got excited about it and Git-n-Messy was once again dusted off the shelf with a better potential to become something greater."
On the Menu Now at Git-N-Messy BBQ
"Currently on the menu we keep it simple. Rib tips which are normally seen as scraps but produce a delicious dish due to the amount of meat and cartilage. St Louis Ribs or my competition ribs. I actually hate fall off the bone ribs – I believe a rib should be tender but still hold some shape on the bone. There is the Brisket – simple yet probably one of the hardest in the BBQ world to perfect. It's all about the fat to meat ratio: too much or too little and you just wont have an amazing product. We have split chickens slow smoked and seasoned well, we have smoked andouille sausage, Burnt ends – but those are only an as requested or on hand product so we may not always have them available. Rib sandwich, Our signature Pulled pork sandwich which is a heaping pile of pulled pork, bread and butter pickles, our Carolina mustard and vinegar based sauce, and house made slaw on a sesame seed potato bun. Our sides are our house bbq beans, collards, coleslaw, and on occasion Mac n cheese. We also have revolving pies just ask me what the pie of the day is when you visit."
Customer Favorites So Far
"Customer Favorites are the Ribs and the Pulled Pork Sandwich. But honestly it depends which customers you ask there is something for everyone."
Special Plans for the Fall Season
This fall I plan on doing smoked Turkeys for Thanksgiving – you can pre order up to the week before and we will have it ready for you within 3 days of order.
Upcoming Plans for Git-N-Mess and Hours
Right now the focus is just on perfecting this location but there are talks about opening a full on restaurant. My hours of operation are Tuesday- Saturday 11am-8pm and Friday Saturday until 9pm but like I say i'm here until I sell out so those hours may vary. I would suggest getting here early so you don't miss out. I am closed Sunday and Monday for Personal days.
Git-n-Messy BBQ
360 W Lake Mary Blvd
Sanford, Florida
https://www.facebook.com/gitnmessybbq/