The Big Easy


Winter Garden is coming up in the Central Florida foodie scene. Despite being far west of Orlando in western Orange County, many new restaurants have been popping up in this once sleepy area of town. Most recently, Four Rivers Smokehouse BBQ restaurant established a western outpost of their highly popular barbecue restaurant replete with indoor dining out here in Winter Garden.
The Big Easy is a new authentic New Orleans-style cajun "home-cookin'" restaurant located in Winter Garden, serving up some real mighty fine dishes from the heart of Louisiana country. Inside The Big Easy, memorabilia such as gold and purple beads, newspaper clippings, dolls, and umbrellas hang along the walls, all symbolizing the good times found in New Orleans. Vibrant purple and yellow walls frame the interior. Brass band and jazz music is the soundtrack to The Big Easy, and I even caught myself tapping my foot to the beat once or twice.
Authentic New Orleans cajun cooking is hard to find here in Central Florida. There are plenty of imitators but very few originators. Many times in the places I have visited, the spices and flavors are missing or the ingredients are too processed. Not the case here at The Big Easy, the food is the real deal and made from scratch on the premises.
We start with the Cajun Crab Dip ($8.99) a creamy dip made with cheese and crab and served with a toasted baguette. The crab dip is full of wonderful spices and flavors that delight the taste buds, and is definitely a great start to this culinary journey into the Louisiana low country. If the crab dip isn't your flavor for appetizer, you can try the alligator bites, shrimp poppers, praline kahlua brie, or the nawlins seafood sampler filled fried oysters, shrimp and crawfish with a side of homemade remoulade sauce.
Cajun Crab Dip ($8.99)
We also ordered a cup of the chicken and sausage gumbo ($4.99 for 8 oz cup) , a flavorful dish made with fresh chicken, sausage, rice and a lovely, hearty broth.
chicken and sausage gumbo ($4.99 for 8 oz cup) 
For my entree, I choose Estrelle's Crawfish Etoufee ($12.99). Étouffée or etouffee (pronounced: [e.tu.fe]) is a dish found in both Cajun and creole cuisine typically served with shellfish over rice. The base of an étouffée is a dark roux which should be dark brown. Onions, green peppers and celery are added to the roux. The étouffée is usually seasoned with cayenne pepper, paprika, white pepper, fresh garlic, fresh parsley, salt, and perhaps even a host of other seasonings. The dish is usually mounted with butter for richness and then served with white rice cooked in seafood stock. At The Big Easy, Estrelle's Crawfish Etoufee has a certain kick to it, reminded me of the fond memories from my trips to New Orleans and the fine cajun food I experienced there. Its all about the spices and The Big Easy does it right! One thing that I noticed however, was that the rice was a bit dry on my visit and could have been a bit more fresh. The etoufee was still amazing despite this, and the crawfish and roux mingled in a wonderful dance in my mouth. Awesome.
Estrelle's Crawfish Etoufee ($12.99)


A friend ordered the Louisiana Low Country Shrimp and Grits ($12.99), a heaping of lovely grits topped with shrimp and a thick sun dried tomato alfredo sauce on top. A truly decadent dish that was thoroughly enjoyed at the table. We also ordered the popular Grandma's Jambalaya ($9.99), made with andouille sausage, chicken, caramelized vegetables, spices, and all mixed with rice.
Louisiana Low Country Shrimp and Grits ($12.99)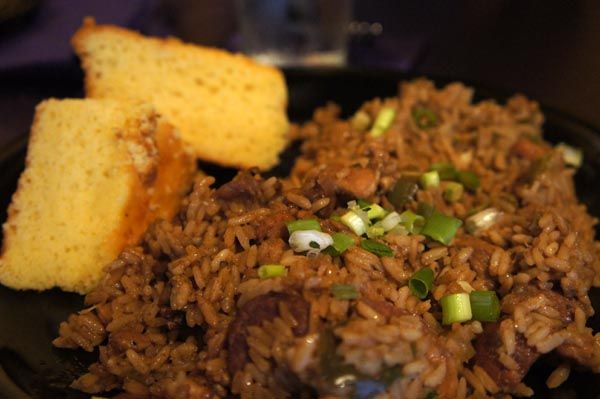 Grandma's Jambalaya ($9.99) with cornbread


The Big Easy also serves a large variety of various po boy sandwiches (oyster, shrimp, etc), muffuletta, and burgers, including a famous Turkey burger.
Wife's Famous Turkey Burger
The staff here is wonderful; our waitress is attentive and genuine, coming back often to check up on us during our meal. Featuring all the authentic New Orleans down-home country cajun cooking that you can hope to find in Central Florida, The Big Easy should be on every's list to try this fall!
The Big Easy Restaurant
Website: http://facebook.com/whodatbigeasy
Address:
15502 Stoneybrook West Pkwy Ste 120, Winter Garden, FL 34787
Phone: 407-654-3279