TastyChomps Mini Travel Guide Visit To London, England – Series
Part 1 – The Tourist Sights of London, England, including Stonehenge, Bath, and Windsor Castle
Part 2 – Chowzter's Global Fast Feast Awards 2014 in London, England
Part 3 – A Food Lovers' Feast at London's Borough Market and Broadway Market
Part 4 – London – Harrod's Food Hall, Full English Breakfast, Fish and Chips, Tayyab's
This past weekend, I attended Chowzter's 2014 Tastiest Fast Feast in the World Awards on Sunday, April 28th in London. Sponsored by Coca-Cola, the Second Annual Chowzter World Awards aimed to find the tastiest fast feast around the globe, taking place at London's L'Anima Cafe to announce the winners of the world's very best dishes.
Orlando's very own Hanamizuki Japanese restaurant (whose Kyoto-style chef was once a cook for the royal family in Japan) had an entree in the esteemed awards, with its Shio Butter Ramen noodle soup dish nominated as one of the top five very best noodle dishes in the world. But alas, our noodle dish was defeated by the formidable Pad Thai at Pad Thai Thip Simai in Bangkok, Thailand.
It was revealed that a simple Ceviche dish from the tiny Chez Wong restaurant in Lima was the overall winner of 'the tastiest item in the world'. Javier Wong's tiny restaurant in one room of his house gets reserved months in advance for one of seven tables at Wong's, this reservation only restaurant has no menu and serves ceviche only ever made from Pacific sole.
Bangkok was announced as the world's foodiest city and fought off stiff competition from the shortlisted cities: London, Lima, Singapore and Vancouver.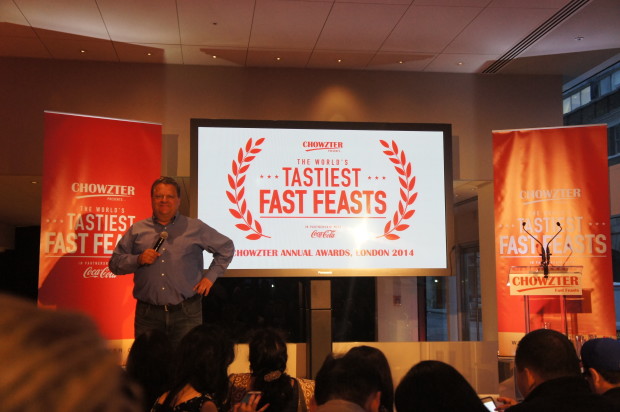 Jeffrey Merrihue of Chowzter.com
Winners from each main food categories (pizzas, seafood, noodles, rice, sandwiches, bird and baked item) spanned all corners of the globe, and winners included the Di Fara's pizza slice from Brooklyn, Singaporean Chicken Rice dish and the fried jam croissant from London's very own Albion cafe in East London. Awards were also awarded to the best dishes which represented four regions of the world: best in Europe; North America; Latin America and Asia.
Winners were chosen by the Chowzter team and top food bloggers, the 'Chief Chowzters', who travelled the globe tasting and testing the entries, as well as the bloggers themselves who battled it out to argue the case for their personal favourites via online debate. The party was attended by an international audience of foodies and guests feasted on an array of delicious dishes including suckling pig devised by Francesca Mazzei's soon to open L'Anima Cafe in the city.
Click here for the full list of 2014 Chowzter Fast Feast Award winners!
Media Coverage for the 2014 Chowzter Global Fast Feast Awards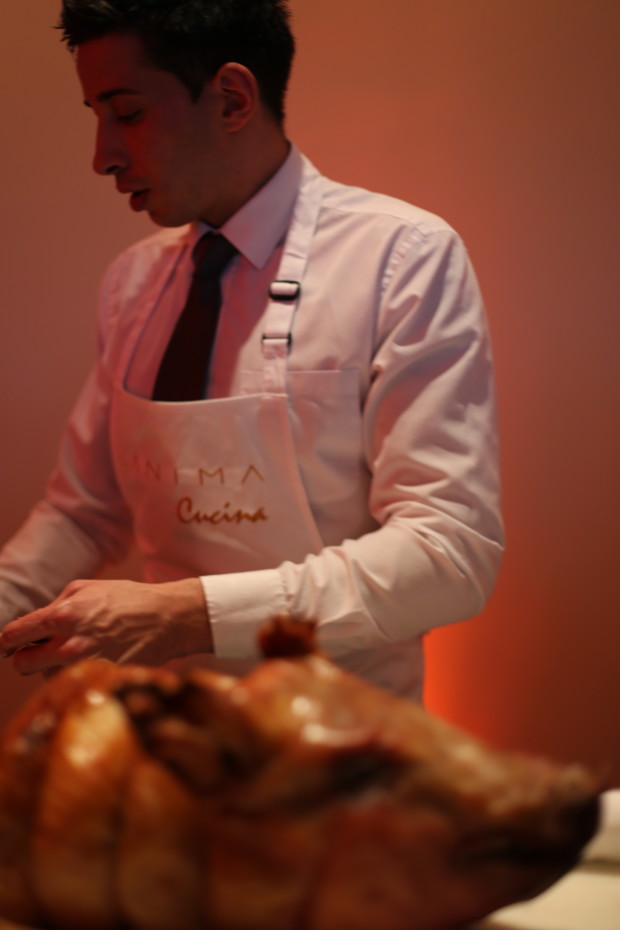 Chowzter's Global Steak Symposium
On the Saturday prior to the Awards event, the Chief Chowzters visited London's Flat Iron steakhouse in Soho to attend a Global Steak Symposium by Mark Schatzker, author of Steak: One Man's Search for the World's Tastiest Beef.
On his world wide journey, Mark discovered that rather than breed or marbleization of the beef that tended to skew its "tastiness" factor, it was actually what the beef was fed. This is why it is so important to have grass-fed rather than corn or grain fed beef to maximize taste.
The restaurant is a bit tight and cozy, spanning 3 floors with nice wooden floors and 6 seat tables.
What's notable about Flat Iron steakhouse, run by Chef Charlie Carroll, is that it is one of the few, if only, London restaurants that provide expertly cooked, mouth-watering, grass-fed Flat Iron steak with house salad for just £10. No wonder they take no reservations.
We blind-tasted and rated the 6 steaks based on their juiciness, taste, and finish, among other things. Here is what the scorecard looked like:
The steaks were numbered 1 through 6 and their identities were later revealed to be:
1- New Zealand Grass Fed Wagyu
2- USDA Prime
3- Australian Barley OZ Black Angus
4- McKie, Scottish Highland, Grass Fed
5- Highland Island from Yorkshire:
6- Grade A5, Wagyu, Japan
And the winning steak was Steak #5, a Highland bred beef, over 30 months old, fed apple and grains, and beer finished with beer from Farmer Charles Ashbridge. It was also, with a sigh of relief, my personal choice for best steak – full of deep, lasting flavors and many different notes ranging from sweet to bitter. Glad to have my tastebuds validated.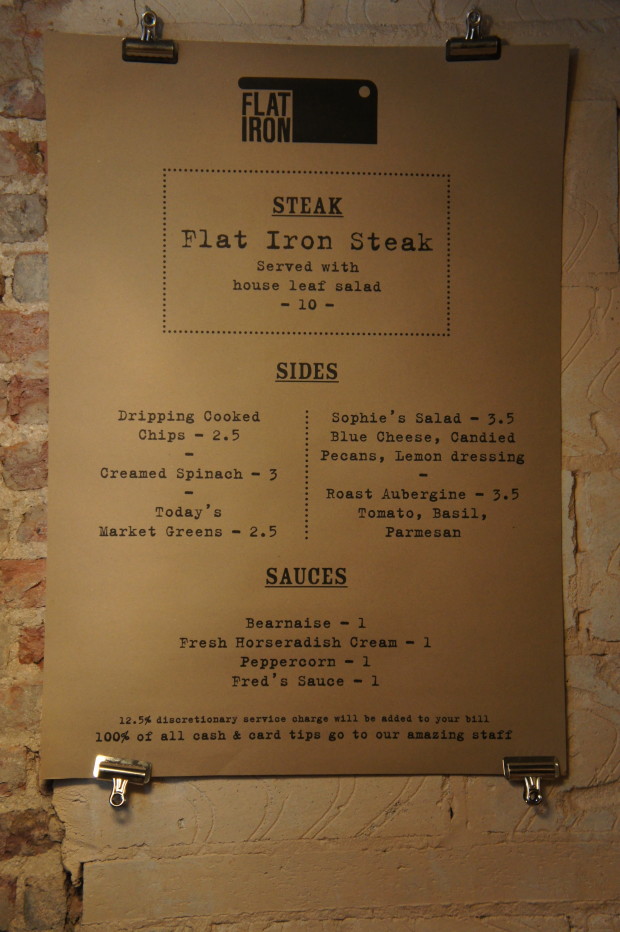 TastyChomps Mini Travel Guide Visit To London, England – Series
Part 1 – The Tourist Sights of London, England, including Stonehenge, Bath, and Windsor Castle
Part 2 – Chowzter's Global Fast Feast Awards 2014 in London, England
Part 3 – A Food Lovers' Feast at London's Borough Market and Broadway Market
Part 4 – London – Harrod's Food Hall, Full English Breakfast, Fish and Chips, Tayyab's