On far-flung World Center Drive, near the Epcot area, you can find authentic Shanghainese Chinese cuisine at the newly opened iShanghai. It's a hidden gem that is a welcome addition to the rather bleek Orlando Chinese restaurant landscape.
Shanghai, the bustling port city on the central coast in China, is known for their seafood and the use of fresh flavors and methods that retain the taste of the ingredients.
Shanghai dishes usually are pickled in wine, stewed, braised, steamed, or deep fried.
A notable Shanghai delicacy is xiaolongbao, also known as soup dumplings in the United States. Made popular by the Michelin starred Din Tai Fung restaurant, which is headquartered in Taiwan, but have locations around the world including in the US, the xiaolongbao is a type of hot steamed bun made with a thin skin of dough and stuffed with pork or minced crab, and notably, soup.
The soup is said to be congealed first before placing into the pork mixture and then steamed, allowing for the soup to stay inside the dumpling. Often times in local Chinese restaurants here in Orlando, they may advertise xiaolongbao and the flavors are there but the soup is not there to many a disappointed patron.
So let's just say we have finally found the holy grail of dumplings in Orlando – the soup dumplings are found here at iShanghai – with a few caveats.
A good xiaolongbao should be able to hold in the soup until it is bitten – nothing is worse than a soup dumpling that has its soup just missing from the dumpling. The soup dumplings here at iShanghai do hold up well, and there is some soup, some very little soup – but still soup, inside the dumplings.
A common way of eating xiaolongbao is to place it on your spoon, puncture the dumpling or bite off the top, blow on it to cool down the steaming soup, and then drink the soup from the spoon. Then, finally, eat the whole dumpling together.
It's satisfying and quite tasty – but I do believe it is priced a bit high at $6.00 for 3 dumplings, or $2.00 a dumpling. I think even Din Tai Fung's soup dumplings at locations in California are priced at $10-$13 for 10, or about $1.00-$1.30 each. For that much, there better be a whole cup of soup in those dumplings.
Overall, it was a good soup dumpling and I am glad we finally have a place to try some here in Orlando, even though it is nearer to Epcot than to downtown Orlando.
The other dishes we tried at iShanghai were also quite good – we started with the salami ham and winter melon soup, a very authentic Chinese soup that is quite refreshing, hearty, and healthy.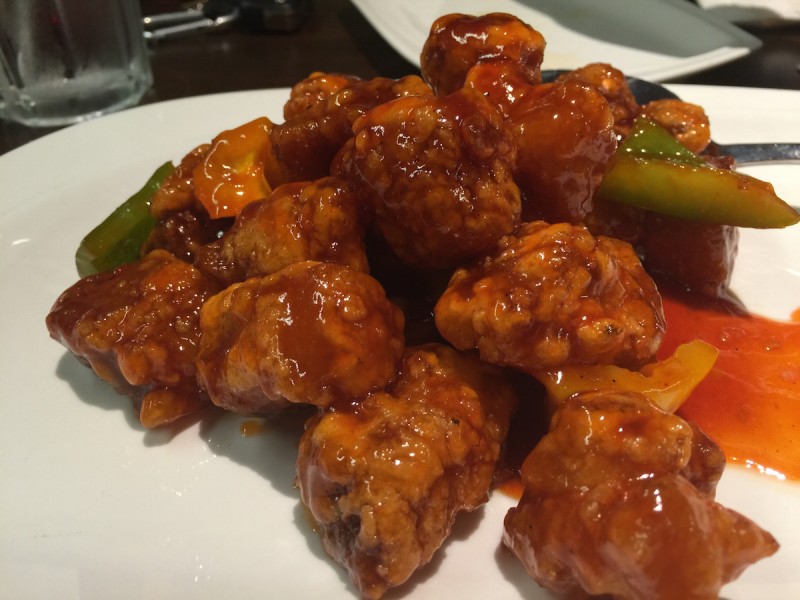 Coo Lao Meat (Pork Belly)
Our coo lao fried pork is a sweet a sour crispy pork belly dish that had praises from all around our table that evening. Crunchy, sweet, and sour – you'd hardly realized you were eating a dish that is literally half pork and half bacon fat.
Stir-Fried Grouper Fish with Pine Nut
A rather exotic dish – the crackling eel – piqued our interest, but we decided to go for a safer
Stir-Fried Grouper Fish with Pine Nut dish instead.
We were quite happy with the selection – the fish, sliced and tender, went well with the pine nuts that added a nice crunchy texture to the dish.
Crispy Skin Chicken
We ordered the Crispy Skin Chicken, a super crispy fried salt and pepper chicken for an appetizer, but they seemed to have put it the order in late – maybe they forgot – so it arrived after our entrees.
They were very apologetic though and service overall was pretty good.
They upgraded the interior from what was formerly the location of an Asian buffet. They need to play some light music or something because it is awkwardly silent inside.
I noticed an elderly couple helping out in the back – you know the food is good if you have grandma and grandpa making it.
I definitely recommend coming here with a family or a group of at least four to try several dishes and share family style.
IShanghai Orlando
http://www.ishanghaiorlando.com/menu.html
8216 a World Center Drive, Orlando, FL, United States
+1 407-238-2997, 407-238-2998
Hours
Mon – Thu 12pm – 10pm
Fri – Sat 12pm – 11pm
Sun 12pm – 10pm