Started by three farmers in 1930, OceanSpray today has grown to over 700 cranberry and citrus grower families as part of its agricultural cooperative. The cooperative spreads from Massachusetts to Washington to right here in Florida, and are probably most known for their cranberry juice and craisin dried fruit snacks.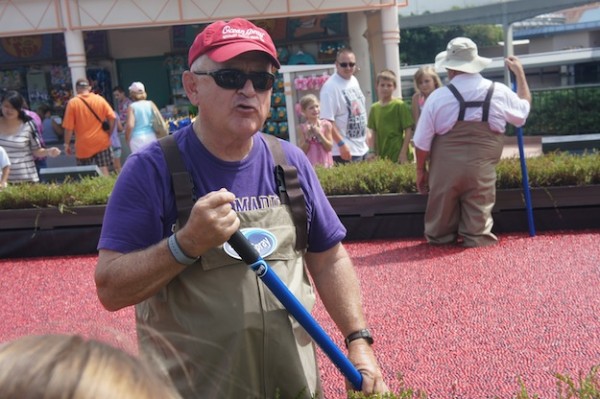 Peter Beaton is a 5th Generation cranberry farmer from Wareham, MA who came down to Orlando recently to talk about the cranberry bog display that is going on right now at the EPCOT International Food and Wine Festival near the entrance to the World Showcase. Filled with more than 1,000 lbs. of fresh, floating cranberries, the bog presents an opportunity for guests to learn about the taste, health and heritage of the fruit from Ocean Spray farmers and Disney Cast Members.
He talks to us about Ocean Spray and how cranberries are harvested in this interview.
In North America, Native Americans were the first to use cranberries as food. Native Americans used cranberries in a variety of foods, especially for pemmican, wound medicine and dye and may have introduced cranberries to starving English settlers in Massachusetts who incorporated the berries into traditional Thanksgiving feasts. This is why you still see cranberry today in many Thanksgiving feasts in the US.
Ocean Spray recently held a media reception at EPCOT with an Around the World with Ocean Spray menu featuring the cranberries used in some very creative ways. Photos follow…
Mole Shrimp Quesadillas with Cranberry Salsa
English Mustard Dusted Scotch Egg with Cranberry Marmalade
Beef and Craisin Shepherd's Pie
Craisin Grazed Pork Belly with White Cheddar Maple Grits
Craisin Vegetable Fried Rice
Craisin Infused Five Spice Char Kobe Beef w Sriracha
Orlando Business Journal's Richard Bilbao, Orlando Attractions Magazine's Jackie Martindell-Roseboom , and Suzanne of KokoCooks
Fox 35's Sonni Abatta with her husband Andrew
Edible Orlando Magazine crew – Katie Farmand and Kendra Lott and their husbands